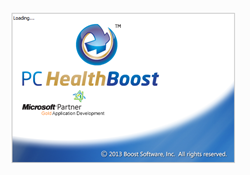 Anything we can do to make PC HealthBoost accessible to as many users as possible is our goal
Boston, MA (PRWEB) November 08, 2013
A few weeks ago, Boost Software™, the makers of PC Health Boost, set goals for the fourth quarter of 2013. They plan to focus heavily on increasing affiliate sales while releasing PC HealthBoost 3.0, the latest version of this tool used to clean up PC registry errors.
The beta release took place already, and now in November, the final 3.0 release is due. Persons using this program will have access to junk file deletion and browser exploit removal tools. They can delete all saved passwords and complete browser history right from the program interface instead of having to do it from their toolbars.
One main goal of releasing 3.0 is to speed up PC performance even more easily than before. "Anything we can do to make PC HealthBoost accessible to as many users as possible is our goal," said Erin Walsh, Boost Software's Public Relations Director.
Boost Software expects to finalize all current developments sometime in 2014, and this last quarter in 2013 has become a time of testing. All that PC Health Boost and related applications intend to do will reveal itself from now until sometime next year.
The company is also creating antivirus software, as well as several other PC optimization tools. The alpha and beta versions of this new tool will prepare for future final releases.
The maker of PC Health Boost also wants to help affiliates make money. To help affiliates out, the affiliate management team decided to provide education to help them meet current earning goals.
To help new affiliates, they will continue to provide the education necessary for success via video tutorials and webinars and offer incentives like their $150 bonus for the first 5 sales.
Former software affiliates Amit Mehta, Brock Bourne, and Peter Futchko will stand by to answer affiliate marketing questions. People can submit questions after a live training session or via email.
Anyone who wants to learn more about how PC Health Boost and how to clean up PC errors can go to PCHealthBoost.com. Go to Boost Affiliates to sign up to become an affiliate and receive video training, keyword lists and many other marketing tools.