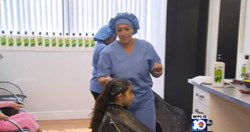 New Miami salon takes on head-scratching problem lice
Miami, FL (PRWEB) November 13, 2013
Help has arrived for South Florida families dealing with what's often an unmentionable: head lice.
Lice Troopers, a new head lice treatment salon at 1005 Kane Concourse, is dedicated to eradication of head lice and education to prevent the insects' spread or reoccurrence.
Jennie Harel, a 30-year Miami Beach resident, has been taught by the best, Dalya Harel, owner of Lice Busters NYC.
Lice Troopers drew her attention because of its consumer service element and emphasis on education. After numerous friends of Jennie were dealing with head lice infestaions, she decided to open her own lice salon.
All Lice Troopers certified staff are trained in the The Lice Busters NYC Method, a forerunning head lice treatment technique developed by Dalya Harel in Brooklyn, NY.
"They did the right thing," Dalya said of the Lice Troopes founders. "Almost anyone can start this kind of business, but you want the right information. There's a lot of misinformation out there on the Internet."
At Lice Tropers, client services include an initial head screening by appointment only. From there, if lice are found, up to two hours of treatment follow. Treatment involves intensively fine-combing hair, in sections, to remove all evidence of the insect.
Typically, clients are children who are infected from head-to-head contact. Their mothers, too, are often infected because of close contact with their children.
"It's second to the common cold among reasons why a child misses school," Jennie said, who's spreading word of her services through school nurses, pediatrician groups, preschools and other child-oriented institutions.
Generally, clients arrive in a state of panic, Jennie said.
"They tend to feel bad. They're stressed out. There's a lot of misperception about cleanliness," she said.
Treatment costs between $95-195. Lice Troopers doesn't charge by the hour. Jennie leaves clients the option to have head lice eradicated by Lice Troopes, or be educated on how to do so on their own.
"We make sure they have the options," she said, noting that the most important tool that's needed is a densely tined metal comb. "We don't recommend a lot of products. Lice are becoming resistant to chemicals, which includes the commonly used store-bought products."
Lice Troopes sells the recommended combs, as well as a small assortment of non-toxic, natural treatment products.
When clients leave, "they feel one-thousand percent better," Jennie said, "for two reasons. We've eliminated the nits and we've taught them about what to do at home and what not to do. There's a lot not to do, that people think they have to."