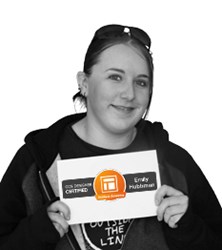 Saint Louis, MO (PRWEB) November 08, 2013
The first web developer in the St. Louis area has become Hubspot COS Certified. Anchor STL Web Developer Emily Hubbman has taken and passed the 8 hours of classes and the 75-minute certification test as required and is now fully Hubspot COS Designer Certified. Anchor STL, along with Hubbman, can now build and develop sites entirely in the new COS (content optimization system). The new COS is automatically mobile responsive, allows the owner's of websites to use Hubspot's widely respected analytics tools, and presents different content to the viewer dependent on who is visiting the site.
A Hubspot COS Designer Certification helps web developers stand out in the Hubspot Marketplace as a high quality template provider that adheres to marketing and structural best practices. Not only does this take into account knowledge of the COS, but it also requires extensive knowledge in HTML/CSS and how to set up a site for users. Hubbman and Anchor also have the ability to design and sell templates for other Hubspot users to apply to their own websites, emails, blogs, or landing pages. They can create layouts for each of these things and fully optimize them for the end user.
The new Hubspot COS is an upgrade from the old Hubspot CMS (content management system), which was a traditional CMS much like WordPress. Anchor already has extensive experience in the old CMS and is a notable Hubspot CMS Developer in the St. Louis area. However, with the new COS, Anchor can now create "smart" websites that literally change the content presented based off of which viewer is visiting the site. It is considered by many in the industry to be the future of web design and development.
Anchor STL is a Hubspot Certified Agency Partner located on Historic Main Street in St. Charles, MO. Anchor specializes in inbound marketing, web design and development, content marketing, social media strategy, email marketing, marketing automation, and eCommerce development. They strive to generate more traffic on your website, convert those visitors to leads, nurture those leads into customers, and ultimately delighting those customers so that they become lifelong advocates of the brand or company. Anchor STL recognizes that there has been a dramatic shift in the consumer's purchasing process and understands the concepts, methodologies, and tactics required to meet the demands of this new age of consumerism.