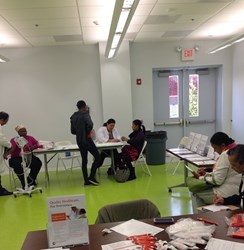 Newark, NJ (PRWEB) November 08, 2013
CarePoint Health Bayonne Medical Center, Christ Hospital, and Hoboken University Medical Center hosted a health fair at the Newark Housing Authority's new Waterfront Recreational Facility in the North Ward of Newark.
Complimentary screenings were provided to the attendees in addition to health related educational material. Screenings included glucose and blood pressure.
CarePoint Health will be scheduling upcoming events at the Newark Housing Authority, so be sure to visit us at http://www.carepointhealth.org or call the public relations department at 201-418-2335.