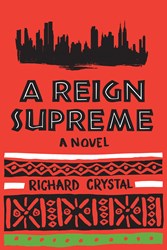 Los Angeles, California (PRWEB) November 07, 2013
Acclaimed television producer and author, Richard Crystal, will appear at Barnes and Noble at 2289 Broadway New York on Friday, November 8th at 7pm. Mr. Crystal's A Reign Supreme is structured after famous jazz musician John Coltrane's A Love Supreme, and tells of one man's journey from the streets of New York to the wilds of Africa as he discovers the true meaning of family and love.
Praise for A Reign Supreme:
"Mr. Crystal has fashioned a tale of virtue and vice in the modern world. It deals with corporate greed, the politics of today's African economic scene and how they test the people who have to make their living in that environment. And it's all backed by the mellow sounds of modern jazz. I'm sure it will intrigue all."

Kareem Abdul Jabbar, basketball legend and author
"As you read 'A Reign Supreme' you will wonder if the author is a jazz musician from the streets of New York or was raised in a village in Kenya. The language of the characters is perfect and real. The descriptions of locations are both factual and extremely visual. Richard Crystal takes you on an adventure involving family loyalty, greed, life changing decisions and much, much more. Something for everyone."

Lou Adler, legendary music producer and recent inductee into the Rock n' Roll Hall of Fame
"John Coltrane constructed his four-part magnum opus A Love Supreme as a harmonic journey meant to convey an ascendancy to spiritual enlightenment—the musical statement of one man meant to inspire and uplift all. With deep appreciation for that inspirational source, Richard Crystal has been inspired to create a story in four sections that follows that same path to a personal awakening, a return to one's roots, and realization of one's purpose. A Reign Supreme is a rare example of a powerful literary work drawing its spirit from a timeless musical classic, with a deft, reverential touch that avoids cliche or overstatement."

Author and jazz historian, Ashley Kahn
About A Reign Supreme:
When a copper deposit is discovered on the land of the Makenda tribe in eastern Kenya, a young king, Ule Samanga, is told to relocate his people to a refugee camp in Nairobi or risk imprisonment. When all appears lost, the young king discovers the existence of Curtis Jackson, a mysterious half-brother presently living in New York. Believing this unexpected news is an omen from the spirit of his ancestors, he eagerly seeks his help to save their sacred tribal homeland. A struggling mortgage broker and former jazz prodigy, Curtis initially has no interest in developing a relationship with his newly found African family. But when he's presented with an intriguing business offer, he embarks on a journey to Africa that becomes a spiritual odyssey, changing him in ways he never imagined. For more information, please visit: http://www.premierdigitalpublishing.com/product/a-reign-supreme/.
About the Author:
Richard "Rip" Crystal was born into a show business family. His father, Jack, produced jazz concerts and managed the legendary Commodore Music Shop in Manhattan. His mother, Helen, was an amateur actress and encouraged her three sons to perform and entertain.
Rip completed his Bachelor's degree in Speech and Drama at Brooklyn College and performed in a number of NBC television specials with: Bobby Darin, Liza Minelli, Tony Randall and Michelle Lee. He moved to Los Angeles in 1975 and shortly thereafter sold his first original screenplay, "Hoops" to NBC as a two-hour movie for television.
He launched his show business career with the creation of "Life's Most Embarrassing Moments" for ABC. During the next two decades, he produced dozens of shows, among them "Wild & Crazy Kids" for Nickelodeon, "Family Challenge" for Fox Family, "America Talks Back" for Lifetime and "Funny Flubs & Screw Ups" for CBS.
After his mother's death in 2001, Rip returned to his passion for singing jazz. In 2009, he underwent open-heart surgery which inspired "Journey of the Heart" – a personal memoir detailing the profound effect the experience had on his life. Over the next three years, with the help of the Nairobi Film Commission, Rip penned "A Reign Supreme", his first fiction novel.
Rip has been married to the love of his life, his wife Fran, for over thirty years. They were blessed with a daughter Jaclyn, who is now an account executive at the Rogers and Cowan Public Relations Firm in West Hollywood and is happily married and the mother of Rip's first granddaughter, Coco.
Websites: http://ripcrystal.com/
Twitter: https://twitter.com/@rippercrystal
Facebook: https://www.facebook.com/pages/Richard-Crystal/286431551492775?fref=ts