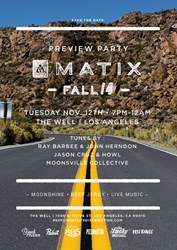 "It will be like what you saw the last time for Spring '14, just on steroids. The build outs, graphics, signage, entertainment, etc. are going to be over the top!" – Brian Dunlap, Matix President
Los Angeles, CA (PRWEB) November 07, 2013
From The Ground Up: MATIX Clothing will premiere their Fall 2014 collection on Tuesday, November 12th from 7 p.m. until midnight at their "We Party Mid-Week" event.
Held at The Well, a 5,000 sq. ft. warehouse, retail store and hair salon in downtown Los Angeles. The preview party will highlight the new denim launch featuring 12 new washes, their new classic tapered fit, Surveyor and the beginning of the Matix Clothing Lifetime Guarantee denim program. A newly designed collection of boxers, socks and undershirts along with leather goods such as wallets, belts and key chains, called The "Essentials" will also be showcased.
The denim lifetime guarantee covers manufacturing faults in regards to buttons, rivets, zippers, belt loops and seams for MATIX Denim pants. "Our products are covered under warranty, to the original owner, for the lifetime of the product," said Dunlap. "We will repair or replace your faulty jeans with a new pair.
Capitalizing on the success of their last preview party held at the brands headquarters in Compton, CA.
"It will be like what you saw the last time for Spring '14, just on steroids. The build outs, graphics, signage, entertainment, etc. are going to be over the top!"
– Brian Dunlap, Matix President
Showcasing the new line with uncommon elements and unique displays, the party will also feature drinks, food and live music with an emphasis on the Moonshine, beef jerky and an array of musical artists; Ray Barbee and John Herndon, Jason Cruz and Howl Moonsville Collective.
If interested in attending, please email rsvp (at) westlifedistribution (dot) com to reserve your spot. The Well, Matix We Party Mid-Week Event; 1006 S. Olive St. Los Angeles, CA 90015 (right off corner of Olive and Olympic).