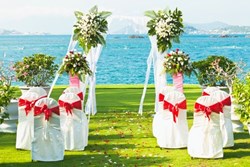 The average U.S. wedding in 2012 was $28,400, For just a fraction of that cost, you can have a Serengeti wedding and Zanzibar honeymoon.
Chicago, IL (PRWEB) November 14, 2013
In the search of unique wedding destinations, it's difficult to do better than the Serengeti. Or Zanzibar. Or a Maasai village. But surprisingly, it's also hard to beat these locations in cost.
CNN Money reported that the average U.S. wedding in 2012 was $28,400, not including the honeymoon. However, for just a quarter of that cost, leading safari companies like Shadows of Africa, based in Arusha, Tanzania, can offer Serengeti weddings with a honeymoon safari and beach trip to Zanzibar and surrounding islands. Throw in international flight tickets, and couples still find themselves at less than half of the U.S. average, plus they've incorporated a once-in-a-lifetime vacation experience.
Of course, a wedding with a Serengeti backdrop is just one option Shadows of Africa offers. In addition to a wide variety of safari destinations, you could also get married on Kilimanjaro, or have a Maasai chief perform a traditional tribal ceremony, or maybe say your vows in a hot air balloon ride or on a semi-private island near Zanzibar.
Destination weddings are particularly popular for second marriages, which are typically smaller and more private, or when a couple's family and friends are far-flung and the event can act as a reunion. Because the safari company or hotel takes care of most of the details, from pre-wedding planning straight through to the honeymoon, the occasions require less stress in planning, whether you're creating a luxury experience or just camping out.
For more information on civil, symbolic and religious ceremony options, please visit link: http://www.shadowsofafrica.com/activities/wedding-and-honeymoons?___store=default, email jake(at)shadowsofafrica(dot)com, or call toll-free 1-800-559-9144.
For media requests and images, please contact Misty Witenberg at misty(at)traversepr(dot)com.
About Shadows of Africa
Shadows of Africa is a member of the African Travel & Tourism Association. The locally owned and operated tour company offers safaris, ranging from day trips to multi-week excursions, throughout Tanzania, Kenya and Rwanda. Guest accommodations include airport and hotel pick up and drop off, private tour guides, private cooks and personalized experiences.