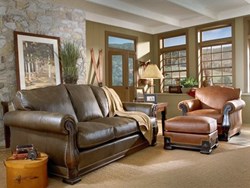 LuxeDecor.com has reinvented the luxury furniture buying business.
Chicago, IL (PRWEB) November 13, 2013
LuxeDecor.com has launched to meet the demand of the expanding online consumer expecting the finest quality home furnishings. This endeavor marks a new channel for reputable manufacturers to provide an heirloom quality piece of furniture to a demanding customer base.
As an online showroom—with trained sales representatives that use technology to streamline the purchasing process—LuxeDecor.com has reinvented the luxury furniture buying business. Consumers have put their reservations aside and have embraced the convenience of shopping online at their own leisure. This convenience syncs perfectly with those who are constantly in demand, with little or no time to browse a traditional showroom.
With a nationwide reach that stretches from one end of the country to the other, LuxeDecor.com's furniture designers continue to garner greater exposure than if they sold through boutique locations. The continued expansion of their catalog is testament to their commitment in maintaining the integrity of each brand.
The beautifully designed website allows shoppers to easily view each carefully selected, exclusive brand. Descriptions give an in-depth look into the history of each brand, and the design process of each piece.
LuxeDecor.com's experienced customer service team is constantly being trained by furniture manufacturers to provide the most up to date and accurate information to consumers. They know the product, and will work with the customer to resolve any issues should they arise. This knowledgeable team continuously keeps consumers up to date on the newest lines from each vendor.
Like traditional showrooms, LuxeDecor.com understands the importance of seeing and feeling the wood and fabric that makes up a product. Swatch samples for a majority of brands are sent out at the shoppers request. The company can assist customers with the layout and dimensions through live chat with their trained staff.
Experienced and approved carriers with white glove delivery ensure each piece arrives to meet each customers expectations. All orders are managed from the time they're received until the time they're successfully delivered. The company stands behind the brands they sell.
LuxeDecor.com is an online retailer that can represent a company to its fullest. They pride themselves on their customer service and willingness to go to great lengths to satisfy each and every consumer. Both LuxeDecor.com and its brands adhere to premium quality, luxury home furniture.
About LuxeDecor.com:
Luxury furniture and decor, once only available in quality retail stores, is now available at LuxeDecor.com. There you will find the best quality products, all in one place and just a click away. Whether you are looking to decorate indoor or purchase quality patio furniture, LuxeDecor.com is the right place for you. An untarnished BBB rating attests to their commitment to customer satisfaction in every way.
Visit LuxeDecor.com for more information.
Contact: Robert Luce / Director of Marketing
888.733.3201 x510
rluce(at)luxedecor(dot)com