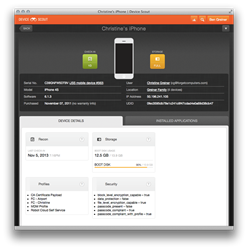 With the addition of iOS, Device Scout lives up to its name with the ability to display and alert on any Apple device.
Chicago, IL (PRWEB) November 07, 2013
The 3.0 release enables Device Scout to display iOS system data, installed applications, check-in and storage alerts, active profiles, and security information for all iOS devices in your organization.
Device Scout is an intelligent dashboard that leverages data from the JAMF Software Server ("JSS"). It presents a wealth of information about any Apple device in an elegant, easy-to-understand format. It also adds a layer of data intelligence providing quick insights that promote proactive device management strategies. Device Scout is ideal for any IT administrator who manages Mac or iOS devices. Critical information is highlighted and administrators can share that information selectively within the organization.
Device Scout is available as a standalone SaaS subscription for anyone who manages their own JSS or as a component of Forget Computers' comprehensive Robot Cloud solution. Robot Cloud is a complete buildout of the JSS framework with additional time-saving tools that enable IT administrators to work smarter while delivering proactive management to their Mac and iOS devices.
Ben Greiner is available to demo the new Device Scout at MacTech Conference in LA this week. Ben is the President and Founder of Forget Computers and is an expert in the Apple technology field. In addition to several speaking engagements over the years, Ben has most recently published the following articles in i.Business Magazine: "Best Practices for Creating Apple IDs," "Six Steps to Better Mac & iOS Security," and "Secure Corporate iOS Devices the Smart Way."
Founded in 1998, Forget Computers is a team of Apple IT specialists skilled in delivering Mac and iOS management and support to Chicago creatives and IT professionals worldwide. Forget Computers is also the developer of Robot Cloud, a hosted Apple device management solution, powered by JAMF's Casper Suite and the ingenuity and experience of Forget Computers. 55 Minutes is a web development consultancy in San Francisco, building apps for design-led businesses and startups.