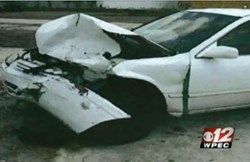 "We certainly believe Ambien played a role, and contributed to this accident." - Attorney Sean Greene
(PRWEB) November 12, 2013
According to an article published by CBS News 12 on Tuesday November 5th 2013, a South Florida woman is still reeling from burns, bruises and a brush with death years after a head on collision she sustained from a driver who does not recall driving the night of the accident. According to the same article, police who interviewed the driver after the crash reported, "The only thing he remembered was taking an Ambien."
In the television companion report to the CBS 12 article, the collision occurred when the driver, having taken the minimum dose of the popular sleep aid, and consequently being under the influence from just one pill, crossed a busy South Florida intersection into oncoming traffic. His vehicle smashed head-on into the victims white Toyota Camry just before 8:00 PM. Steinger, Iscoe & Greene partner, Sean Greene has been representing the victim of this accident throughout litigation (No. (CACE 11-009873 (08) Broward County Court).
Ambien, containing active ingredient Zolpidem, belongs to the 'sedative-hypnotic' class of drugs and is used to treat insomnia. "Per the FDA, Ambien causes adverse reactions, hallucinations, sleepwalking and drowsiness while driving," as stated in the CBS 12 November 5th article. Mayo Clinic sleep specialist Eric J. Olson, M.D. reports in a Q&A about the drug "some people who take Ambien do things while asleep that they don't remember — such as driving, or preparing and eating food."
The CBS 12 articles goes on to report that Dr. Robert Steinberg, a West Palm Beach internist who prescribes Ambien agrees that users, "need to be aware that this could be a potential, really serious problem." That observation holds dangerously true as the Substance Abuse and Mental Health Association reports a 274% increase between 2005 to 2010 in the number of Emergency Room visits by women involving the active ingredient in Ambien, (women have been shown to metabolize more adversely the sleep aid).
A safety announcement issued by the U.S. Food and Drug Administration on May 14th, 2013 warns Ambien extended-release patients "not to drive or engage in other activities that require complete mental alertness the day after taking the drug," and adjusted recommended dosage guidelines in May due to the "known risk of next day impairment."
But what about patients who take the pill and cannot remember operating a motor vehicle during use of the drug?
In the CBS 12 interview Attorney Sean Greene, shares his client's conviction toward coming forth with her case, "If just one person says, 'You know what, I took an Ambien, I'm not getting in the car', then [our client] knows she's helped somebody."
The Steinger, Iscoe & Greene client, a wife and mother of three children, is still too upset from the trauma of the accident and its direct impact on her family to comment.