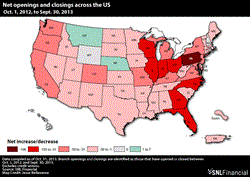 There's almost nobody in the branches. You could shoot water balloons all over the place and not hit anybody.
(PRWEB) November 11, 2013
On a net-net basis, banks collectively reduced the nation's branch total by 390 locations during the third quarter, an SNL analysis found. That was roughly on par with the second quarter and marked a greater level of net closures than in the two previous quarters, when branch counts also declined.
The greatest levels of reductions in the third quarter were in Florida, Pennsylvania and Indiana.
Bank customers increasingly prefer online and mobile banking, observers say, as advancing technology enables them to make remote deposits, shop for loans and manage accounts more efficiently from their desktops or smartphones. This has resulted in steadily less foot traffic in many branches, providing banks reason to close them.
"There's almost nobody in the branches," Jim Adkins, founder and managing member of bank consultancy Artisan Advisors said in a recent interview. "You could shoot water balloons all over the place and not hit anybody."
What's more, in an era of sluggish revenue growth and heavy compliance costs, most bankers are pursuing every avenue they can to curb costs. Closing underperforming branches is one way to quickly achieve this, Adkins said. He added that, as younger generations become regular bank customers, the branch reduction trend may accelerate, as people who grow up with modern technology are more apt to bank online than venture into physical branches.
M&A has driven, and could further drive, the branch consolidation trend. Many analysts anticipate that more small banks, in particular, will sell in coming quarters. Such banks are grappling with heavy regulatory burdens and fierce competition from larger lenders. "I think more already are looking to sell," Sara Hasan, an analyst at McAdams Wright Ragen Inc., told SNL. "And buyers can benefit from the synergy savings you can get with M&A."
To read the full report visit http://www.snl.com/InteractiveX/Article.aspx?cdid=A-25720350-12598