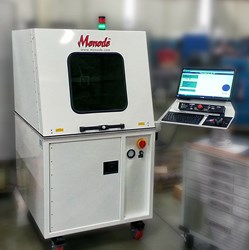 This piece of equipment greatly enhances the clarity of roll identification marking on all roll tooling manufactured by Roll-Kraft
Mentor, OH (PRWEB) November 09, 2013
As a part of its latest round of new equipment investment, Roll-Kraft has added the Vestige 50 Watt Custom Mobile Laser Marking System which is manufactured by Monode Marking Products, Inc.
The new laser marking system is a full 50-Watt system capable of marking 12" tall x 15" diameter roll tooling with a .010 to .030 marking depth.
"The addition of this piece of equipment greatly enhances the clarity of roll identification marking on all roll tooling manufactured by Roll-Kraft," said Roll-Kraft president Chuck Gehrisch. "This is another example of our continued commitment to investment in new equipment and further strengthens our position as the leading tooling supplier to the tube & pipe & roll forming industries."
In addition to the new laser marking station, Roll-Kraft has also recently added a new Automatic Universal Cylindrical Grinder as well as two new Accutex AX-1165 EDM machines to its facilities in Mentor, Ohio and Woodbridge, Ontario.
Roll-Kraft has its headquarters in Mentor, Ohio, and maintains other facilities in Frankfort, Illinois (Roll-Kraft Northern), and Ontario, Canada (Roll-Kraft Ltd.). The company phone number is (888) 953-9400 or (440) 205-3100, and the fax number is (440) 205-3110. Visit the Roll-Kraft website at http://www.roll-kraft.com. For easy and immediate contact with Roll-Kraft that transcends time zones and working hours, the website features Dr. Resolve. Simply complete and submit an on-line form and Roll-Kraft will respond.