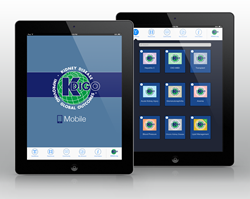 This app puts a wealth of kidney disease information conveniently in the hands of everyone around the world.
Austin, TX (PRWEB) November 14, 2013
Visible Health announced today collaboration with Kidney Disease Improving Global Outcomes (KDIGO) to launch a free mobile application that will provide medical professionals kidney disease clinical best practices on the go.
"This app puts a wealth of kidney disease information conveniently in the hands of everyone around the world," said John Davis, KDIGO CEO. He added, "Guidelines published as books are an important factor in their implementation; but, this electronic, instantly searchable tool will make them much easier to reference as clinicians make decisions." Additionally, the KDIGO Mobile app provides clinicians with an environment in which they can easily take notes, highlight key recommendations, bookmark important pages, as well as pose questions and comments to others in the User Forum.
A mobile experience is extremely valuable to medical professionals that care for patients with kidney disease. According to the Centers for Disease Control (CDC), as of 2012, more than 20 million people in the US, twenty years of age and older, have chronic kidney disease (CKD). For those with stage 5 kidney disease, where kidney failure has happened, it is required to follow a prescribed treatment plan. Therapy for Stage 5 kidney failure patients is extremely involved. Patients meet with a nephrologist on a frequent basis and have hemodialysis treatments on average 3 times per week. With multiple medical professionals involved and the intricate treatment plan, a coordinated, mobile, accessible resource for medical professionals to reference best practices is essential.
Dr. Bertram Kasiske, KDIGO's Co-chair, said, "This app is another tool KDIGO is proud to provide our colleagues. These guidelines contain very useful and current scientific evidence that has been intensely studied by an expert work group. We have always been sure of the validity of our guidelines. Now, we are also sure that they can be easily accessed as well."
A few highlights of the KDIGO Mobile iPad app include:

Every KDIGO clinical practice guideline in a fully searchable format
Related materials, including conference reports and position papers
Easy personalization features such as notation, highlighting, and bookmarks
An interactive forum in which registered members can post comments and questions to fellow members
John Cox, CEO of Visible Health, commented, "We are proud to be collaborating with KDIGO to bring evidence-based clinical practice guidelines for kidney disease onto the iPad and into the clinic. We are looking forward to working together to encourage widespread adoption of the KDIGO guidelines by nephrologists around the world."
The application is available for iPad users free-of-charge through the Apple iTunes App Store through the following link: KDIGO Mobile on the App Store in iTunes.
About Visible Health
Visible Health is partnering with leading healthcare product companies, institutions and organizations to make digital tools for collaborative, condition-specific patient education, patient safety and care planning available to clinical providers and their patients. Visible Health was conceived and launched by Harvard Medical School classmates Todd Morgan and Alexander Kutikov, along with technology expert John Cox, and is headquartered in Austin, Texas. For more information, please visit us at http://www.visiblehealth.com.
About KDIGO
Kidney Disease Improving Global Outcomes (KDIGO) is the global organization developing and implementing evidence-based clinical practice guidelines in kidney disease. KDIGO is committed to helping clinicians and patients around the world make individual treatment choices based on science that will improve outcomes.
Established in 2003, KDIGO is a global group made up of key opinion leaders in kidney disease and transplantation from all corners of the globe. It is entirely self-managed and incorporated as a foundation in the public interest in Belgium. Bringing global science-based guidelines to local communities in order to improve patient outcomes is the aim of KDIGO Mobile, and the mission of the KDIGO organization as a whole. The evidence KDIGO uses to form its guideline recommendations is global; implementation is local. This KDIGO Mobile app is part of the implementation process.
Learn more about KDIGO at http://www.kdigo.org.