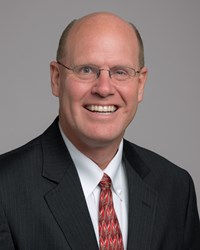 "I look forward to an important role in helping Telligen fulfill their mission," says Mulhausen.
West Des Moines, Iowa (PRWEB) November 07, 2013
Telligen welcomes Dr. Paul Mulhausen, M.D. as Chief Medical Officer. Dr. Mulhausen received his medical degree from the University of Minnesota, a Masters in Health Sciences degree from Duke University and completed his postgraduate training at the Duke University School of Medicine. Prior to joining Telligen, Mulhausen was a member of the faculty at the University of Iowa's Carver College of Medicine, and served in various clinical and educational roles as the John McMaster Ristine, MD, Geriatric Education Professor.
Dr. Mulhausen serves on the company's executive team, providing clinical guidance at the executive level and enhancing Telligen's population health management solutions for current and prospective clients. He brings considerable expertise in the care of people across the healthcare continuum, including inpatient, outpatient, home health, hospice and nursing home settings.
Telligen CEO Jeff Chungath said, "Dr. Mulhausen is a tremendous addition to our team. His experience with care coordination and care transitions will be important in influencing the direction of our population health management solutions."
"It is an honor for me to join a progressive organization like Telligen," said Dr. Mulhausen. "I was drawn to its mission of improving healthcare through its clinical and technical expertise. The people at Telligen are passionate about quality, cost-effectiveness, and patient-centered care. I look forward to an important role in helping Telligen fulfill that mission."
Dr. Mulhausen currently serves as Speaker of the House of Delegates, as well as the Secretary/Treasurer for the Iowa Medical Society. He is also the chair of the American Geriatrics Society's (AGS) Clinical Practice and Models of Care Committee and leads the AGS Choosing Wisely® Taskforce.
####
For more than 40 years, Telligen Population Health Management solutions have improved the quality and cost-effectiveness of healthcare for consumers and providers. Telligen serves commercial clients and government programs at the federal, state and local level, improving health outcomes for millions of people nationwide. For more information, visit us at telligen.org.