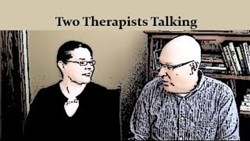 Women don't really want to emasculate their man.
San Diego, CA (PRWEB) November 07, 2013
Thursday morning's unsolicited YouTube broadcast by Madison, WI licensed systems therapists Jay Blevins and Jasmine St. John prove that an intelligent book about getting a woman back into bed—notably, a book written by a woman, not a man—is an indispensable tool for any therapist working to rebuild clients' romantic and sexual relationships.
In their broadcast, the two therapists stressed the importance of sharing author Stephany Ekman's book, Why She Won't Sleep With You Anymore* *and how you can change that—fast! with therapy subjects. Ekman's content is presented as an easy-to-navigate—often humorous—guide for men who are in long-term relationships yet are continually thwarted by their "non-participating" female partners. Blevins noted that the book was actually brought to his attention by an enthusiastic client. He stated that it is vitally important for heterosexual men in monogamous relationships to understand that "it's not just about flowers=I'll have sex."
Ekman, a veteran interviewer, pursued her subject matter in conversations with women of varying ages and demographic backgrounds over a number of years. According to the publisher, Annandale Press, the guide was created not only for male readers, to help them understand what is going on in the minds and libidos of their women, but also for women who have not been able to verbalize their needs to their partners.
In their Two Therapists Talking YouTube broadcast, Blevins and St. John discuss a few of the many key points in Why She Won't: the issue of a man's power, for one ("Women don't really want to emasculate their man; they want him to keep his power," Blevins recounts), and Ekman's assertion that while men get to their emotions via sex, women get to sex via their emotions. Said St. John: "The book supports Naomi Wolf's research about a female's need for emotional connection for a physiological sexual response."
Blevins and St. John feel so strongly about their book review visitors reading the book, they have included a book giveaway contest. The strategies in the book do involve work on the part of the reader but, urges St. John, "If you want more sex, it's worth it."
Why She Won't Sleep With You Anymore* *and how you can change that—fast! (Annandale Press, 166 pages) is available on Amazon.com and through other online retailers. For a review copy or a cover image for reproduction, contact Katherine Grayson at Annandale Press: info(at)annandalepress(dot)com, 818.339.3186
To place orders for the book, contact:
Publisher
Annandale Press
3714 Hillview Way
Oceanside, CA 92056
Phone: 818.339.3186
e-mail: info(at)annandalepress(dot)com
Why She Won't Sleep With You Anymore*
*and how you can change that—fast!
ISBN-13: 978-0615646053
ISBN-10: 0615646050