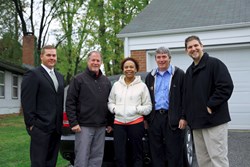 This is really a blessing CollisionMax is doing for veterans. -- Belinda Dunbar, retired Air Force veteran
Trevose, PA (PRWEB) November 07, 2013
Belinda Dunbar, who retired from the Air Force after a career of 20 years, has been named the latest winner of CollisionMax's Metal of Honor project. Mrs. Dunbar, a clerk in the Collingswood, NJ Post Office, lives in Willingboro, NJ.
Free of charge, CollisionMax of Westmont will repair Mrs. Dunbar's black 2008 Audi A-6, which bears damage suffered in Hurricane Sandy. "It was parked in my driveway and was hit when siding from one of my neighbors' house blew off," she explained. The car also sports accumulated dents and dings as well as a cracked windshield.
"This award is a blessing," she said. "This was damage we just couldn't get around to fixing. This is really a blessing what you're doing for veterans."
Mrs. Dunbar enlisted in the Air Force right out of high school in 1986, because she wanted to follow in her father's footsteps. "He was a technical sergeant in the Army, and I always knew I wanted to serve in the armed forces," she said.
In the course of her career, she was in the Air Force's military police, but served most of her time in personnel operations. Postings included bases in Belgium, Puerto Rico and Saudi Arabia, as well as in the United States. She retired in 2006 from McGuire Air Force Base in Burlington County, NJ, and has since worked for the U.S. Postal Service, "just like my father did," she added.
"I'm proud of my service," Mrs. Dunbar said. "I served my country and made friends I consider family all around the world." That includes her husband, Robert, whom she met in training class in 2002 at McGuire. They were married in 2004, after their career paths crossed again.
Through its Metal of Honor project, CollisionMax will give away auto body repairs to 11 US military veterans, one per month for each of its locations in the Delaware Valley. Mrs. Dunbar is the project's sixth winner. The company chooses the winner from nominations it receives from the public on the project's web site, http://www.metalofhonorproject.com. The company is now accepting nominations for veterans from the Northeast Philadelphia, PA area.
"The Metal of Honor Project is our way of saying thank you and honoring the men and women of our armed forces who put their lives on the line for all of us," said Jim Tornetta, CollisionMax and president and CEO.
In New Jersey, CollisionMax operates shops in Blackwood, Cinnaminson, Glassboro, Marlton, Pennsauken, Sicklerville and Westmont. In Pennsylvania, it has repair centers in Oxford Valley, Warminster and two in Northeast Philadelphia (both on West Grant Avenue). For information about CollisionMax, please visit http://www.collisionmax.com.