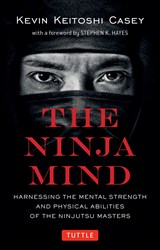 North Clarendon, VT (PRWEB) November 07, 2013
Masters in the Japanese art of Ninjutsu are legendary for their ability to access seemingly endless amounts of pure strength and mental endurance. In his new book The Ninja Mind, author and Ninjutsu black belt artist Kevin Casey documents his journey toward mastery under the tutelage of Stephen K. Hayes, the Black Belt Hall of Fame member and the "Father of American Ninjutsu." Casey vividly describes his successes and setbacks studying with his famous teacher—as well as his growing interest in the Ninja art of Kuji-no-Ho, the most esoteric of traditional Ninja practices.
Combined with determination and discipline, Casey's techniques and exercises will guide you to cultivate and acquire a true ninja's power. Chapters include:

The Nine Powers
The Secrets Told
Physical Strength
Mental Strength
Spirit Strength
Negative Emotions
Also within the book you'll uncover exercises such as 'The Unbendable Arm' and 'Manifesting Power,' which will develop your physical strength, and 'Walking as the Hero' to hone the mindset necessary to overcome any challenge no matter how suddenly it arises. The Ninja Mind is now available wherever books are sold.
Kevin Casey became a student under Stephen K. Hayes in 1998, eventually receiving his To-Shin Do warrior name Keitoshi with his san-dan third degree black belt in 2007. He continues to study with his personal teacher, friend and mentor, Stephen K. Hayes. He currently lives in Boulder, CO.
About Tuttle Publishing
Established in 1948 by Charles Egbert Tuttle Jr. in Rutland, Vermont and Tokyo, Japan, Tuttle Publishing is the premier publisher of English language books on Asian culture. Today, Tuttle maintains an active offering of books on a wide range of topics, including Asian culture, Asian literature, Asian architecture, Eastern spirituality, gardening, cooking, martial arts, crafts, travel, health and wellness, and fine art for a worldwide audience. For more information, visit http://tuttlepublishing.com.