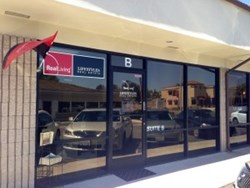 We look forward to serving buyers and sellers who need our full service Lifestyle approach to business.
San Diego, CA (PRWEB) November 07, 2013
Linda Scarberry, Branch Manager of Real Living Lifestyles in Fallbrook, is excited to be moving with her team of talented agents to its new address at 746 S. Main Ave Suite A, close to the intersection of Fallbrook Street and South Main. The new location, located in the heart of Fallbrook's Historic area, will be very convenient for Real Living's valued clients.
Scarberry mentioned, "We are all excited to be moving into our new, larger location where we can better serve the real estate needs of Fallbrook and Bonsall residents. Our team is comprised of long time area residents who know the intricacies of buying and selling homes in Fallbrook and Bonsall whether it be land or equestrian estate. We are also proud to announce our new equestrian division which specializes in the needs of equine residences and horse facilities."
The Fallbrook office is having a Grand Opening on November 14th, 2013 4pm to 7pm. All are welcome, please come by and meet the exceptional agents at Real Living Lifestyles newest office in Fallbrook.
Fallbrook's Real Living Lifestyles team has doubled since last year and are looking forward to doing the same this year by being a part of the community and providing signature service while helping make the next move a smooth and successful one for their local clients! Staffed with some of the top agents in the area, local residents will recognize some of the names and faces including: Ken Follis, Kim Carlson, Bonnie Haines, Celeste Grimard, Deborah Danko, Debra Sorensen, Donna Moore, Ellie Salazar, JoAnn Rapaszky, Jonathan Faubel, Mary Ellen Fulton, Rebecca Reilly, and Roselyn Desander.
"As we continue to grow and evolve in our company and the market, we could not be more thrilled with our expanded move in Fallbrook. The great people, neighborhoods and communities here are perfect for Real Living Lifestyles and our team. We look forward to serving buyers and sellers who need our full service Lifestyle approach to business. I have personally explored the area of Fallbrook and into the Bonsall area as well. Both bring their own unique, charming, and high value real estate opportunities. The family and tight community feel is evident and we are so happy to be here working with so many living in these communities. We see great things ahead," said Steve Rodgers CEO/President Real Living Lifestyles.
For more information concerning the Grand Opening and exciting new real estate positions contact Linda Scarberry at #949-683-8194. Linda can help in guiding new and old agents into the next generation of real estate professionals.
Real Living Real Estate is a network brand of HSF Affiliates LLC, which is majority owned by HomeServices of America, Inc.TM, a Berkshire Hathaway affiliate.