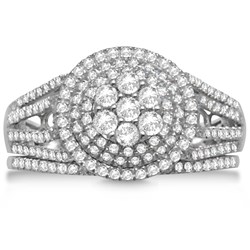 At this time of year it's all about providing a positive consumer experience.
New York, New York (PRWEB) November 13, 2013
What is it about Black Friday that we find so alluring? After all, it's the day that absolutely drives consumers nuts! The confusion is multiplied this year by the announcement that many large retail stores expect to open their doors on the evening of Thanksgiving for the first time in history. Retailers are clamoring for consumer dollars, and holiday bargain hunters are fighting boisterous crowds and waiting on long lines to purchase their 'deals'.
The fact is, however, that rather than helping potential shoppers, these lures to purchase are destroying the shopping experience. At least one online jewelry retailer is taking notice. Allurez.com has revamped its online site to add real consumer benefits, designed to improve their overall experience in shopping, ordering and receiving their purchases.
Raphi Mahgereft, a jewelry expert at Allurez, a New York based jewelry designer and retailer said, "We've extended the hours of our customer service reps to fill orders more quickly, offer personal shoppers for those who need help selecting the perfect gift, and have extended the return policy for even easier after-Christmas exchanges. It's all about the consumer experience."
As Cyber Monday approaches, online retailers are emphasizing their top sellers to interested buyers. "Providing great prices is a given, but the real key is to improve consumer satisfaction. Allurez has recently created a new search feature that helps shoppers find exactly what they are looking for…even if they accidentally misspell it. It's all about the customer experience."
Projections for how well retailers will do this holiday season are mixed. Many analysts predict that especially after the government shutdown, consumers will curtail their holiday spending by about 2 percent. Business Insider is predicting "a cautious outlook on the 2013 holiday season…." Online jewelry retailers are also expecting to feel the pinch and need to take a page from those companies who are making it their goal to provide their customers with an easy and stress-free buying experience.
Based in New York City and serving customers around the globe, Allurez Jewelers is a rising star in the field of luxury ecommerce. Allurez was recently ranked as the number one online-only jewelry retailer by TopTenReviews.com, and placed in the top three retailers overall. Their team of veteran jewelers specializes in all fine jewelry, including engagement rings, gemstone pendants, and other spectacular contemporary jewelry. Visit them online at Allurez.com.
Sources:
http://www.nytimes.com/2013/10/21/business/media/cloudy-forecast-for-holiday-spending-prompts-more-promotion.html?_r=0 October 2013, The New York Times
http://www.businessinsider.com/morgan-stanley-predicts-worst-holiday-shopping-since-2008-2013-10 October 2013 Business Insider