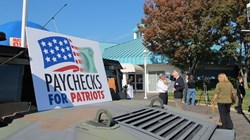 CCA employs approximately 1,600 people, fully 10% of the workforce, with a military background.
Nashville, TN (PRWEB) November 11, 2013
Corrections Corporation of America (CCA), America's leader in partnership corrections is proud to be saluted by G.I. Jobs Magazine as a top military-friendly employer for the 7th year.
The annual recognition ranks CCA 52 out of 100 on the 2014 "Top 100 Military-Friendly Employers" list.
"CCA employs approximately 1,600 people, fully 10% of the workforce, with a military background," said Melanie Carnaggio, CCA Director of Recruiting. "This distinction by G.I. Jobs reflects our commitment to fostering a culture of honor and duty in every CCA facility across the country."
At CCA, veterans, National Guard and Reserve members experience a command structure that mirrors that of the military. And there's an emphasis on service that goes well beyond the day to day business of corrections.
"Across the company this Veterans Day we'll be celebrating our heroes," said Carnaggio. "And for several years now, employees everywhere contribute to our annual Patriot Packages, providing care packages for our troops."
Along with visits to military bases and transition centers, CCA recruiters for the 2nd year partnered with the Tennessee Department of Labor to host the statewide Paychecks for Patriots. In 2013, the Georgia Department of Labor joined in, allowing CCA to participate in a total of 10 one-day hiring events, aimed at recruiting former and transitioning military men and women.
G.I. Jobs Magazine is a trusted resource for military personnel who are embarking on a new career path after serving in the armed forces. Criteria for selection on the Top 100 list includes the strength of company military recruiting efforts, the percentage of new hires with prior military service, retention programs, and company policies on National Guard and Reserve service. For more information on CCA's military hiring efforts, please visit http://www.ccajob.com/career/careers-military/.
About CCA
CCA is the nation's largest provider of partnership corrections to federal, state and local government, operating more than 60 facilities, including more than 50 company-owned or controlled facilities, with more than 90,000 beds, in 20 states and the District of Columbia. In addition to providing the residential services for inmates, CCA facilities offer rehabilitation and educational programs, including education, vocation, religious services, life skills and employment training and substance abuse treatment.
See how CCA is making a difference at http://ccastart.com/intro/.