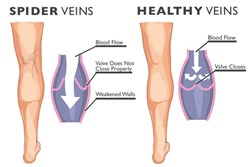 More than just cosmetically annoying, spider veins can signal more serious vein disease.
Chicago, IL (PRWEB) November 07, 2013
The Chicago Vein Care Center, specializing in vein disease treatment in Chicago, is launching a new health campaign to educate the public about the causes and implications of spider veins. According to the Chicago, IL vein center, spider veins can be more than just a cosmetic concern.
Vein specialist in Chicago and Center Director, Dr. Ramon Castro says, "Spider veins are an independent risk factor for deep vein disease. Deep vein disease can present in the form of deep vein thrombosis – a medical condition that can be life-threatening."
Approximately half of all Americans over the age of 50 have vein disease. Vein disease is progressive. Left untreated, both spider veins and varicose veins can lead to more serious medical complications including leg pain, leg fatigue, swollen legs and ankles, and even skin ulcers. Risk factors for vein disease include heredity, obesity, the female gender, inactivity, and frequent periods of prolonged standing or sitting. The leading risk factor, however, is aging.
The Chicago Vein Care Center hopes that by disseminating this information, the public will become more informed about the natural course of vein disease and better recognize the need for early vein treatment in Chicago.
For more information, visit:
http://www.yourveinexpert.com/
Varicose vein treatment options
Varicose veins and spider veins affect over 30 million people in the United States. Varicose veins are twisted, rope-like veins on the surface of the skin that may bulge and are usually bluish in color. Spider veins are small, web-like veins that appear reddish on the surface of the skin. Men and women suffer from varicose veins and spider veins, but women are more likely to have them.
The newest treatments for varicose veins and spider veins have a lot going for them. Endovenous laser treatment, sclerotherapy, radio frequency ablation and microphlebectomy are all minimally invasive treatments that can be performed in a vein specialist's office in about an hour. This means minimal downtime for the patient, few side effects, and terrific results.
About the Chicago Vein Care Center
The Chicago Vein Care Center in Chicago, IL is a leader in providing comprehensive care and treatment for all types of vein disease. The center strives to provide patients with customized vein treatments, using safe and effective noninvasive and minimally invasive therapies. The highly trained medical staff has extensive knowledge and expertise treating vein disorders such as varicose veins and spider veins. The center's chief vein specialist is a leading expert in the treatment of vein disorders using today's advanced technologies, and is a respected provider of superior patient care for the full range of vein conditions.
Chicago Vein Care Center
http://www.yourveinexpert.com/
Tel. 773-283-7887