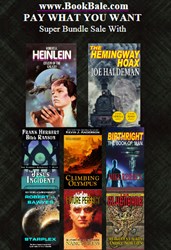 "It is a totally new publishing world out there…and we all struggle to adapt. But the changes also offer marvelous new opportunities for those of us willing to grab them."—Multiple Hugo- and Nebula-winning author Mike Resnick
Rockville, Maryland (PRWEB) November 12, 2013
Phoenix Pick, the science fiction and fantasy imprint of Arc Manor (a small publishing company in Rockville, Maryland), made three separate announcements on November 1, each exemplifying how the publishing industry is undergoing massive, technologically driven changes that may be even more significant than what happened to the music industry a decade ago.
The first announcement was of a sale of a "bundle" of books through one of the company's subsidiary websites, http://www.BookBale.com, on a pay-what-you-want basis.
While bundle sales have been around for a while, what makes this sale particularly significant is the author line. It includes some of the most venerated writers in the field, including Robert A. Heinlein (the "father" of modern science fiction), Grand Master Joe Haldeman, Kevin J. Anderson (more than 50 bestsellers), and Mike Resnick (who has won more awards for short stories in the genre than any other author, living or dead). Other authors on offer include Frank Herbert (author of Dune, the single bestselling SF book ever), New York Times bestseller Mercedes Lackey, and the much-respected Nancy Kress (often called the "queen of novellas," since so many of her novellas win major awards).
The second announcement was the release of the November issue of the bi-monthly magazine Galaxy's Edge (http://www.GalaxysEdge.com). The magazine can be read for free on its website and may be downloaded for a nominal fee for electronic readers. It is also available in paper format through online bookstores such as Amazon.com.
Phoenix Pick has worked to make the format of the magazine and the author line-up stand out for readers looking for a high-quality publication. This issue's stories and columns include those by Catherine Asaro, David Brin, Larry Niven, Barry Malzberg, and Gregory Benford, each a well-known name in science fiction. Past issues have featured material by Robert Silverberg, Jack McDevitt, Kristine Kathryn Rusch, David Gerrold, and James Patrick Kelly.
Finally, Phoenix Pick announced the release of New Under the Sun, (http://www.amazon.com/dp/1612421237?tag=arcman-20) featuring multiple-award-winning and bestselling author Nancy Kress. This is part of the "Stellar Guild" series http://www.stellarguild.com/). Once again, the list of writers participating in this line reads like a who's who in science fiction. Past authors have included Robert Silverberg, Harry Turtledove, Kevin J. Anderson, and Mercedes Lackey. New titles in development include works by Eric Flint and Larry Niven.
Why are such established, well-regarded authors, most of whom can have a pick of any publisher they want, working with a small, virtually unknown press established just a few years ago?
Is it a sign of the current turmoil within the book industry? Whether it is print-on-demand for paper books, or the Kindle or Nook for digital delivery, the way books are created and distributed is nothing like it used to be a few years ago. The landscape is changed, and continues to evolve rapidly.
Two of the most significant recent developments have been the virtual elimination of the need for substantial capital to set up a small but viable publishing house, and the ability of authors to bypass traditional means of reaching readers and instead going to them directly. Both of these trends are exemplified by the success of a company like Phoenix Pick in working with authors considered to be at the top of their field.
Arc Manor/Phoenix Pick is a small press established in 2006. It started by offering repackaged public-domain titles but has branched out into copyrighted material, particularly in science fiction and fantasy. It has about 100 such titles on offer from, as mentioned, some of the top names in the industry, and is continuing to grow its portfolio rapidly.
What attracts these top authors to a company like Phoenix Pick is its ability to offer authors extensive flexibility in how the books are created and sold. There are no rules or legacies to account for. Utilizing the latest in technologies, this small company can offer products as good as those produced by traditional publishers. At the same time the company can offer authors a great deal of flexibility in how their books are created as well as how those books are sold to their fans.
Each of Phoenix Pick's three announcements is an example of a different facet of the revolutionary change being wrought on the industry. BookBale.com is a direct way for pools of authors to sell directly to their fans. In this case, Phoenix Pick is acting as a facilitator rather than a publisher and will make substantially less from the books' sales than a publisher would. The lion's share of earnings goes directly into the authors' pockets.
While not quite as direct as musicians selling directly from their sites to their fans (and some authors are trying that as well), sales methods such as Bookbale.com combine the fan base of a number of writers, and by bringing in a publisher to assist, also bring in marketing and distribution expertise.
One of these marketing tools relates to the second announcement that Phoenix Pick made, that of the release of issue 5 of Galaxy's Edge magazine. Given that it is available online for free (though downloads and the paper version carry a cost), it may have limited profit potential. However, it does give Phoenix Pick the opportunity to showcase different books and authors in each issue. It is not surprising to see the BookBale.com sale as the most prominent advertisement on the Galaxy's Edge site, as readers of the magazine are directed to the book sale.
Finally, Nancy Kress' new book, New Under the Sun, is an example of how some small presses fill niche markets and cater to special interests. New Under the Sun is a book issued under the Stellar Guild series. The series pairs a bestselling author with a protégé of his or her choice, each writing a novella complementing each other to make a complete book. This is the sort of project that doesn't fit the traditional mold, and as such, is not something that will interest traditional presses. But it can be done by small, niche presses and allows them to offer veteran authors something their traditional publishers can't.
For writers, as Mike Resnick—the editor of Galaxy's Edge magazine—puts it, "it is a totally new publishing world out there…and we all struggle to adapt. But the changes also offer marvelous new opportunities for those of us willing to grab them."
Phoenix Pick's three separate announcements reflect three different aspects of the rapid changes occurring in the marketplace….changes that will probably lead to a very different type of publishing world in the years to come.