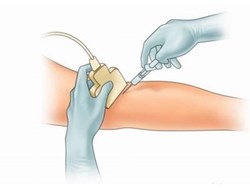 Sclerotherapy is a treatment in which Dr. Robert Handley, leading vascular doctor in Flower Mound injects a sclerosing solution directly into the problem veins, which causes them to permanently seal shut.
Flower Mound, Texas (PRWEB) November 07, 2013
The Flower Mound Vein Center is launching a new social media campaign to educate the public on minimally invasive spider vein treatments. The Flower Mound, TX vein specialists say that the newest treatments are minimally invasive, meaning they can be performed conveniently in the vein center's office, with no need to visit a hospital or experience lengthy recovery times.
Dr. Robert Handley, a leading Flower Mound vascular doctor, says, "A popular choice for spider veins is called sclerotherapy, in which a special solution is injected directly into the veins causing them to permanently seal shut. The body naturally reroutes the blood through other veins in the body, and patients experience a significant improvement in both their circulation and in the appearance of their legs." Dr. Handley also notes that the sclerotherapy procedure can be performed in about an hour.
The Flower Mound Vein Center recommends an initial visit for a venous health evaluation before pursing spider vein treatment in Texas. The center hopes that by providing this information, patients will be motivated to ask their vein specialist about their spider vein treatment options and seek prompt attention for their spider veins. For more information, interested readers can visit the center's social media channels, including Facebook and Twitter.
For more information, visit: http://flowermoundveins.com/.
Varicose Vein Treatment Options
Varicose veins can be unsightly. Above and beyond their cosmetic appearance, however, they can lead to leg cramps, pain and swelling. Largely the result of aging, veins can lose their elasticity and become enlarged and prominent leading to the development of varicose veins.
There is a solution. Several minimally invasive treatments are available to eliminate varicose veins. They include highly specialized techniques such as sclerotherapy, endovenous laser treatment and, microphlebectomy. All of these procedures are performed by highly skilled vein doctors on an outpatient basis without the need for general anesthesia. Patients are often back to work the next day.
About The Flower Mound Vein Center
The Flower Mound Vein Center is a comprehensive vein treatment facility in Flower Mound, TX that serves the greater Dallas-Ft. Worth area, including Arlington, McKinney, Garland, and Plano, Texas. The center specializes in treating varicose veins, spider veins, and other types of vein disease using advanced, minimally invasive techniques. Vein specialist Dr. Robert A. Handley, Jr., MD leads the center. Dr. Handley is a leading vein expert and holds credentials from the American Board of Phlebology, and the American Board of Radiology with a Certificate of Added Qualification in Vascular and Interventional Radiology. He is recognized by the Society of Interventional Radiology to have a special competency in Interventional Stroke Therapy. He has extensive experience in image guided minimally invasive procedures and has a special interest in venous procedures and in the treatment of venous insufficiency. He is a member of the American College of Phlebology, American College of Radiology, and the Society of Interventional Radiology.
Flower Mound Vein Center
http://flowermoundveins.com/
(972) 410-5757