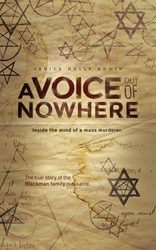 The lack of violence in one's past is absolutely no reliable predictor of the possibility for future violence.
(PRWEB) November 12, 2013
In little less than two months, there have been at least five publicized cases of mass killings or violence committed by people confirmed or suspected to be mentally ill: the Navy Yard, the incident on Capitol Hill, the gruesome slaughter in Brooklyn, the shotgun deaths of a family and their dogs in Phoenix, the shooting at LAX. "The list goes on and will continue to grow," says author Janice Holly Booth, whose new true crime book "A Voice out of Nowhere: Inside the mind of a mass murderer," is Amazon's #1 best-seller in schizophrenia. "While we continue to argue about community mental health care, the victim tally multiplies."
"A Voice out of Nowhere" chronicles the true criminal case of a young man with no history of aggression who suddenly and savagely murdered his family during one night of psychotically-fueled violence. "His story is not atypical," says Booth. "The victims – his family – really didn't understand the nature of schizophrenia. They didn't understand that their son's delusions had created a break from reality and that the voices in his head could suddenly turn deadly. In his case and in many cases of severe schizophrenia, the lack of violence in one's past is absolutely no reliable predictor of the possibility for future violence. Had they known this, they may have taken appropriate action which might very well have saved their lives."
During Schizophrenia Awareness Week which runs November 11 - 17, 2013, Booth hopes that people will make an effort to better understand this particular mental illness, keeping in mind that most people living with the brain disorder are not a danger to themselves or others. "It's that small sub-set of schizophrenics who have severe symptoms and are either untreated or inadequately treated we need to worry about," she says. Becoming more aware is the first step. "Having schizophrenia is nothing to be ashamed of," Booth says, but acknowledges that stigma continues to be a real problem for those who live with the disorder. "Even though the vast majority of people with schizophrenia live and work and do their very best to make a life for themselves, stigma will continue to be a problem until we can stop the high-profile violence." The only way to do that, she insists, is to create a mental health care system that is nimble and proactive. Until we do, Booth says, "we might as well brace ourselves for the next Sandy Hook, because it's coming."
BIO: Janice Holly Booth was born and raised in British Columbia. Her first book, Only Pack What You Can Carry, was published by National Geographic in 2011. She has a master's degree in Leadership and was a non-profit CEO for more than 20 years before becoming a full-time writer and speaker. She currently lives near Charlotte, North Carolina.