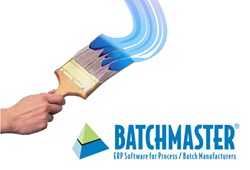 With BatchMaster ERP for Sage 300, Cardinal Paint can expect improvements in usability, interoperability, performance and compliance
Laguna Hills, California (PRWEB) November 12, 2013
BatchMaster Software, a leading provider of enterprise applications and services for formula-based manufacturers, announced today that Cardinal Paint and Powder, an industrial paint and coating manufacturer, will replace their current Sage PFW enterprise solution with a best of breed solution consisting of BatchMaster ERP and Sage 300 to support its growth initiatives.
"With BatchMaster ERP for Sage 300, Cardinal Paint can expect improvements in usability, interoperability, performance and compliance," stated Kevin Greeley, Director of IT at Cardinal Paint. "We plan to take full advantage of BatchMaster's planning, scheduling, warehousing and mobile ERP extensions to further streamline and scale our production processes".
Since 1952, Cardinal Paint has been an industry leading manufacturer and global distributor of specialty liquid, powder and curable coatings, touch up and masking products, as well as custom formulation services. The process manufacturer initially purchased two BatchMaster ERP user licenses back in 1985. Cardinal Paint continued to grow over the years using the BatchMaster ERP technology developed for Sage PFW, and now today, the company has decided to migrate to the next generation of BatchMaster ERP and Sage 300 to support their growth beyond the 100 users mark.
"Cardinal Paint is an outstanding example of one of our Customers for Life", said Sahib Dudani, CEO of BatchMaster Software. "The easy migration from Sage PFW to BatchMaster ERP for Sage 300 validates our corporate strategy in terms of platform integration and industry focused product development, which positions our customers to grow their businesses, while not outgrowing their technology".
Pat Mathiesen, CFO at Cardinal Paint sums up their purchase decision, "We knew that the effective management of our manufacturing processes was one of the most critical requirements going into our ERP evaluation process. At the end, we decided to partner with a technology company that offered us an 'off the shelf' product; one that is formula centric, could easily meet our unique requirements, and give us the best ROI with minimal risk".
About BatchMaster Software
BatchMaster Software offers a comprehensive, modular financial and manufacturing ERP solution for formula-based manufacturers in industries such as Food & Beverage, Chemicals, Nutraceuticals, Personal Care and Life Sciences. BatchMaster ERP is built on top of leading financial platforms, including Sage 100 and 300 ERP, Microsoft Dynamics GP, SAP Business One and QuickBooks. A choice of on-premise and hosted subscription models are available. For more information, please visit http://www.batchmaster.com.
About Sage Group plc
Companies around the world use Sage 300 ERP to manage nearly every aspect of their business. Sage 300 ERP is a comprehensive multi-national business management solution built on the most flexible and expansive architecture today. Cost-effective, quick to implement and simple to use, Sage 300 ERP provides best-in-class solutions to automate workflow throughout an organization.