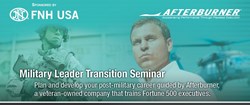 [Veteran unemployment] is not a disparity in talent or experience; it's a disparity in communication: we need to communicate to our veterans that establishing a civilian career is simply transferring those in-demand skillsets, not starting all over."
Atlanta, GA (PRWEB) November 08, 2013
In a time when veteran unemployment remains high, two companies are partnering to do something about it.
A leading manufacturer of military and law enforcement firearms, FNH USA LLC® is the sole sponsor of a strategic post-military career planning seminar for exiting soldiers, facilitated by veteran-owned-and-operated leadership development firm, Afterburner®. The Military Leader Transition Seminar is open to transitioning leaders from all ranks, and will be held December 9, 2013 from 0800-1700 at the National Infantry Museum in Columbus, GA.
The philanthropic partnership was born of both organizations' commitment to supporting veteran initiatives. In addition to actively hiring veterans, FNH USA supports various charities and programs that benefit active duty, reserve, the National Guard, veterans, and wounded warriors year-round. As a longstanding member of organizations like AUSA, AAAA, and NDIA, FNH USA has an extensive history in pro-veteran initiatives, including last year's partnership with the National Rifle Association's Life of Duty program.
"We are honored to partner with Afterburner® in bringing forth this Military Transition and Career Development Course to such a deserving group of individuals," said Mark Cherpes, President and CEO, FNH USA, LLC. "Afterburner's programs offer our servicemen and servicewomen unique opportunities and the skills to transition into careers in the civilian marketplace, an endeavor FNH USA, LLC supports wholeheartedly. As a company in the business of equipping our men and women in uniform with the most capable and technologically-advanced firearms and weapon systems, it is only natural that FNH USA would want our U.S. service members to succeed once they have completed their military careers."
The full-day seminar is part of a larger program currently being developed by Afterburner for the United States Army. The content includes and exceeds tactical job search skills, such as resume writing and interview preparation, and trains departing service members on the strategic mindset that is necessary to develop a lifetime civilian career as opposed to a job. Each attendee will use the same planning process used by top corporations to develop a strategic, executable career plan, complete with a personal value proposition, career objectives customized to his or her previous experience, and insight into industries where military leadership skills are in high demand.
As part of the seminar, each participant will also receive a copy of Down Range, the yet-to-be-released veteran transition career guide by Afterburner founder & CEO, James D. Murphy and Director of Learning & Development, USN CDR (ret.) Will Duke. Written from the firm's nearly 20 year history working with Fortune 500 and Global 2000 clients, Down Range empowers exiting military members to communicate the value of their service experience and individual areas of expertise, and to use those skill sets and experience as a catalyst to success throughout the course of their civilian careers. A portion of all proceeds from Down Range sales will be donated to the Special Operations Warrior Foundation (SOWF), a nationally recognized non-profit that assists the families of fallen Special Operators.
In founding Afterburner, Murphy recognized the correlation between skill sets that were in high demand among global corporations and the skill sets he acquired as an F-15 fighter pilot in the U.S. Air Force.
"365 days a year, we train hundreds of organizations how to operate like elite military teams. Every day, we hear and see the demand for skill sets that military service members possess, yet our veteran unemployment numbers remain high," states Jim "Murph" Murphy.
"This is not a disparity in talent or experience; it's a disparity in communication: we need to communicate to our departing veterans that establishing a civilian career is simply transferring those in-demand skillsets, not starting all over."
For more information and to register for the course, click here or call (404)-835-3500.
About FNH USA, LLC®
FNH USA, LLC is a U.S. subsidiary of FN Herstal S.A., a global leader in the development and manufacturing of high-quality, reliable firearms for the military, law enforcement and commercial markets. A pioneer in innovative firearm technology since the days of John M. Browning, the company supplies a variety of products to customers in more than 100 countries worldwide. Based in McLean, VA with manufacturing operations in Columbia, SC, FNH USA is responsible for all U.S.-based sales and marketing efforts. For more information, visit us at http://www.fnhusa.com.
About Afterburner®
Afterburner Inc. was founded in 1996 by U.S. Air Force fighter pilot Jim "Murph" Murphy and trains organizations around the world in the simple, scalable improvement processes of Flawless ExecutionSM. Encompassing three management solutions, Empower SM, Equip SM, and EmbedSM, Afterburner brings elite military precision to top corporations around the world. With a client list that includes over 30% of the U.S. Fortune 500, Afterburner has ranked among Inc. Magazine's "Inc. 500 List of America's Fastest Growing Companies" three times and has been featured in leading publications like the Wall Street Journal, Business Week, Atlanta Business Chronicle, Financial Times, Newsweek, and Meetings and Conventions Magazine. Afterburner has also appeared on CNN, CNBC, Fox News, and Bloomberg News, among others. To learn more about Afterburner's innovative approach to professional development and strategy, visit http://www.Afterburner.com or call (404)-835-3500.