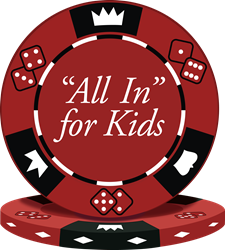 This is a truly unique event and we are honored to partner on it with the WPT Foundation
New York, NY (PRWEB) November 08, 2013
The annual "All In" for Kids Poker Tournament, the largest charity poker tournament benefiting a major U.S. children's hospital, will be held at the Mandarin Oriental New York on Thursday, November 14, 2013.
"All In" for Kids is part of the World Poker Tour Foundation's™ Playing for a Better World series of charity poker events, which supports worthy charities around the globe. This high-profile event, sponsored in part by partypoker, benefits The Children's Hospital of Philadelphia (CHOP), the #1 pediatric hospital in the country as ranked by both U.S. News & World Report and Parents magazine.
"This is a truly unique event and we are honored to partner on it with the WPT Foundation," said Steven M. Altschuler, M.D., CHOP's chief executive officer. "CHOP treats thousands of kids from New York each year, so it is also fitting and meaningful to have the event here in the heart of the city."
"The value of helping sick children recover from life-threatening illnesses and helping them find hope for a better tomorrow cannot be overstated," said WPT President Adam Pliska. "CHOP is at the forefront of this crucial mission and WPT Foundation is thrilled to help support their ongoing efforts to improve the lives of children in New York, Philadelphia, and from around the globe."
The Tournament was co-founded in 2008 by Daniel Shak, who along with his family is the honorary chair of this year's event. It is hosted for the sixth consecutive year by poker legend Phil Hellmuth Jr who will be joined by WPT commentators Mike Sexton and Vince Van Patten. World Poker Tour players Andy Frankenberger and Vanessa Selbst will also be in attendance, along with Hospital trustees, donors and grateful families for an exciting and memorable evening.
To date, the tournament has raised nearly $4.3 million for lifesaving work done at CHOP. The featured beneficiary this year will be the Pediatric Palliative Care Program. Past beneficiaries include the Hospital's Center for Autism Research and Care, the Center for Childhood Cancer Research, the Division of Neurosurgery, and the Center for Fetal Diagnosis and Treatment.
Visit http://www.allinforkids.org for more information.
ABOUT THE CHILDREN'S HOSPITAL OF PHILADELPHIA
The Children's Hospital of Philadelphia was founded in 1855 as the nation's first pediatric hospital. Through its long-standing commitment to providing exceptional patient care, training new generations of pediatric healthcare professionals and pioneering major research initiatives, Children's Hospital has fostered many discoveries that have benefited children worldwide. Its pediatric research program receives the highest amount of National Institutes of Health funding among all U.S. children's hospitals. In addition, its unique family-centered care and public service programs have brought the 527-bed hospital recognition as a leading advocate for children and adolescents. For more information, visit http://www.chop.edu.
ABOUT WPT FOUNDATION
WPT Foundation is a non-profit organization dedicated to utilizing World Poker Tour's exceptional international platform to influence positive change on a global scale. The core of WPT Foundation's fundraising efforts is the ongoing series of philanthropic poker events titled WPT Playing for a Better World. WPT Foundation and its associated charity events help bring awareness and raise critical funds for non-profit programs of excellence. This unprecedented philanthropic effort is dedicated to improving our planet by supporting key charities in regards to human rights, education, world hunger and the environment.