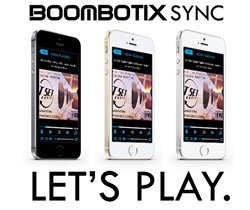 This technology empowers everyone to create their own radio.
San Francisco, CA (PRWEB) November 08, 2013
In the heart of the Mission District, the leaders in ultraportable audio tech, Boombotix, is in the process of launching a new music app that enables users to stream content to multiple devices in perfect sync. The technology is a lot like traditional radio, but it operates on 4G/LTE mobile networks and WiFi.
When the company started, they were developing high output ultraportable speakers used as an alternative to headphones. As their community grew, their customers tried to figure out how to sync up multiple units for a peer-to-peer listening experience.
"There was no technology on the market that allowed us to sync devices on mobile networks," said Lief Storer, CEO/founder of Boombotix. "So we built it ourselves."
The company is currently looking to raise another $15k through Kickstarter to help finish the final stages of development of the app. The current prototype looks promising as they demo it on their campaign page using a 4G connection on two iPhones.
Some manufacturers have taken the approach of creating audio networks through local WiFi, but Boombotix Sync looks to be the first to do this successfully on mobile. The company believes that this type of music sharing can offer an alternative to splitting cables and potentially be an alternative to traditional radio.
Some features within Boombotix SYNC include:

Integration with Soundcloud content
Synchronization of content within 30 milliseconds
Compatibility on iOS devices (iPhone 3G/4/4S/5/5S, iPad 2,3,4, Air and iPad Mini)
Works with all speakers, headphones or internal device speakers
Partnering with great content providers is one of the main concerns with this technology. By enabling a new form of broadcast, they need to have content providers to support the platform. The app is currently going to be launched on iOS. The campaign makes for plans to roll out on Android as well. The app is supposed to launch towards the very end of the year capped off by a global NYE DJ session.