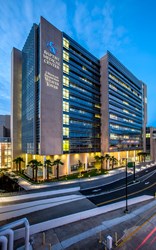 Jacksonville, FL (PRWEB) November 09, 2013
Baptist Health is one of the first hospitals in Northeast Florida to treat patients suffering from esophageal disease with a new treatment called truFreeze® spray cryotherapy.
This minimally invasive technology involves placing a small catheter in a standard endoscope to spray extremely cold liquid nitrogen to ablate targeted tissue inside the esophagus.
The truFreeze spray cryotherapy system is a new option for the millions of people who suffer from disorders of the esophagus, the tube that propels food to the stomach. Esophageal disorders occur most frequently caused by structural abnormalities; motility (movement) disorders, such as swallowing; inflammatory disorders and acid reflux disease (GERD).
"Patients come to Baptist with varying severity of esophageal disease, pre-existing conditions, medications, attitudes and fears regarding treatment. Having spray cryotherapy as part of the comprehensive care we offer expands the available options for these patients," said Michael Mayo, hospital president, Baptist Medical Center Jacksonville.
Baptist Health purchased the truFreeze spray cryotherapy system in early September, making it the first hospital in northeast Florida to own the groundbreaking technology. Baptist performed the outpatient procedure on its first patient last month and has successfully completed the truFreeze treatment on two other patients.
"We are using spray cryotherapy primarily to treat patients who have Barrett's disease with high-grade dysplasia," said interventional gastroenterologist Jose Nieto, DO. The procedure is also effective for patients who have Barrett's with early esophageal cancer who are not surgical candidates, patients with recurring Barrett's after radiation treatment for esophageal cancer, and patients with radiation proctitis (bleeding of the rectum). "Typically, patients experience less pain and have less scar tissue with spray cryotherapy compared to other types of treatment," said Dr. Nieto, who treated patients with spray cyrotherapy in Orlando for five years before joining Baptist Health in 2012.. "The procedure is an excellent palliative option to surgery and allows patients to resume normal activities, such as eating, immediately afterward."
How spray cryotherapy works
Spray cryotherapy is a simple outpatient procedure that typically takes 20-30 minutes to complete. During the procedure, a physician inserts a long tube with a camera on the end (an endoscope) through the mouth and esophagus to enable viewing of the treatment site. The physician then threads a specialized spray cryotherapy catheter through the endoscope, selects the ablation area and sprays liquid nitrogen that's 320 degrees below zero on the diseased tissue to flash freeze and destroy it. The tissue is allowed to thaw, and the freeze-thaw cycle is typically repeated several times as determined necessary by the physician. This rapid freeze and slow thaw of tissue has been proven to destroy the targeted cells without disturbing the underlying connective tissue, providing a framework for healthy cells to regenerate. Patients are typically able to return home the same day and quickly resume normal activity.
Cryotherapy, the use of extreme cold in medical applications, is a proven therapy that has been used for decades to treat diseased tissue on the skin and many parts of the body. The spray cryotherapy system being utilized at Baptist Medical Center Jacksonville is a novel and versatile ablation option because of its touch-less spray application, which enables physicians to address tissue of varied shapes and sizes. The truFreeze spray cryotherapy system is manufactured by CSA Medical, Inc. More information about CSA Medical and spray cryotherapy can be found at http://www.csamedical.com. Patients interested in the new cryotherapy treatment at Baptist should call (904) 202-CARE or visit http://www.baptistjax.com for more information.
###
About Baptist Health
Baptist Health is a faith-based, mission-driven system in Northeast Florida comprised of Baptist Medical Center Jacksonville; Baptist Medical Center Beaches; Baptist Medical Center Nassau; Baptist Medical Center South; and Wolfson Children's Hospital – the region's only children's hospital. All Baptist Health hospitals, along with Baptist Home Health Care, have achieved Magnet™ status for excellence in patient care. Baptist Health includes the area's only dedicated heart hospital; a comprehensive cancer center; orthopaedic institute; women's services; neurosciences, including neurosurgery and two Joint Commission-certified stroke centers; a Bariatric Center of Excellence; a full range of psychology and psychiatry services; outpatient facilities; urgent care services; and primary and specialty care physicians' offices throughout Northeast Florida. Recently opened facilities include the J. Wayne and Delores Barr Weaver Tower and Baptist Clay Medical Campus. For more details, visit baptistjax.com.