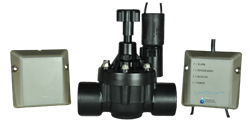 The advantages of using LevelSmart™ are so compelling that it's an obvious choice for any backyard pool owner.
Sylvania, OH (PRWEB) November 11, 2013
H2flow is pleased to announce the launch of the all new LevelSmart™ AutoFill System.
LevelSmart™ is a premium wireless water leveling device that works in perfect harmony with existing equipment in order to maintain a constant water level in swimming pools, spas, fountains, and water features.
H2flow teamed with innovation partner, Dr. Richard DeVerse of Kona Labs, to develop LevelSmart™. Dr. DeVerse was also responsible for the design of FlowVis®, H2flow's award-winning flow meter that was launched in early 2012. Said H2flow CEO, Paul Hackett, on his company's partnership with Kona Labs, "The development of LevelSmart™ only further cements our already strong relationship with Dr. DeVerse and Kona Labs. FlowVis® has been such a tremendous success that it was an obvious choice for us to work with Kona Labs to develop LevelSmart™ too." Mr. Hackett continued, "we're all very excited about this latest product. LevelSmart™ is a truly awesome innovation, which there is a real need for in the pool, spa and water feature market. The fact that it has wireless capability up to 500 feet, that it requires zero maintenance, and that it features Advanced Spread Spectrum Hopping for interference free radio operation, are all things that set LevelSmart™ so far ahead of anything else that's currently on the market".
For the consumer, perhaps the most obvious reason to purchase LevelSmart™ will be to eliminate the use of a garden hose. Hoses are often used to counter a lowered water level caused by evaporation, bather splashing, and backwashing. There are however, numerous disadvantages associated with maintaining water level through this method, not least of which is over-filling. For those familiar with the use of a hose to maintain level, over-filling can be a frequent occurrence that cannot only damage landscaping, but can also be expensive in terms of unnecessary water usage. A hose draped across the pool deck can also be an unsightly tripping hazard and a liability.
In addition to being a more convenient and aesthetically pleasing solution than the use of a hose, LevelSmart™ also protects equipment. When the pool's level drops, the pump can suck air through the skimmer. This can result in ineffective filtering and skimming, but more importantly, it could damage the pump, seal, and motor. Automatically maintaining the pool's water level with LevelSmart™ will keep your pool clean and protect your investment.
"The advantages of using LevelSmart™ are so compelling that it's an obvious choice for any backyard pool owner", says H2flow Director of Marketing, Gavin Hackett. "Whether you have children who like to play and splash around in the pool, you live in a high temperature location where evaporation is an issue, you're losing water due to backwashing, or you just want to eliminate the hose that's draped across your pool deck, LevelSmart™ is a reliable and user-friendly solution".
H2flow will debut LevelSmart™ at the upcoming 2014 International Pool Spa Patio Expo in Las Vegas, NV, November 12-14. Attendees can visit H2flow at booth # B1202, where the company will be exhibiting LevelSmart™, their FlowVis® flow meter, and their PSP20 Automatic Pump Shutoff Device. More information about LevelSmart™ and all of H2flow's products can be found at http://www.h2flow.net or by contacting us.