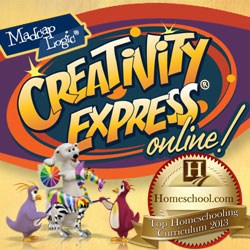 The Creativity Express program offers engaging lessons with animated characters, followed by interactive activities to strengthen understanding of the ideas presented, plus so much more!
Tampa, Florida (PRWEB) November 08, 2013
Madcap Logic, LLC is proud to have 'Creativity Express' awarded the Homeschool.com 'Top Homeschooling Curriculum Award for 2013'. This coveted award reflects Homeschool.com's commitment to provide their community with top-quality homeschool educational resources. The past 25 years have seen a revival in homeschooling, and now between two and three million children in the United States are learning at home.
As CEO Elise Ruiz-Ramon said, "We hope that Creativity Express will reach a great number of children and provide them with a top-quality foundation to Art. It's particularly important now that traditional schools are increasingly stripping out this critical means of open children's eyes and giving them perspective on all their other courses. Plus it's very easy for the parents to use, and great fun for everyone. That's definitely a home school requirement."
Homeschool.com's review of Creativity Express included the following features and benefits:
There are three progressive components to Creativity Express: sayART, seeART, and doART. Children are introduced to fundamental art principles and ideas in sayART, discover meaning and interpretation in seeART and explore self-expression in doART.
The Creativity Express program offers engaging lessons with animated characters, followed by interactive activities to strengthen understanding of the ideas presented, plus so much more!

16 lessons -- a full year's curriculum containing animated movies and interactive activities. The lessons are Art as Language, Messages In Art, Emphasis, Value, Color, Making Paint, Warm & Cool Colors, Line, Portraits, Movement, Time, Eyes, Shape & Form, Museums, 0+1+1+2+3, and Inspiration.
The sixteen-lesson curriculum (it's recommended that families start a lesson every one-two weeks), focuses on the ways that artists visually convey messages and ideas. Each lesson looks at artwork in context with other relevant facts, including historical events and technological developments that influenced the art work. Lessons are taught with a contextual approach that makes art more relevant to kids' daily lives.
This big-picture approach lends itself well to the study of other academic subjects--the lessons are able to make important cross-curricular connections to history, math, science, writing, and other disciplines. This is really a plus, especially for homeschoolers that want to take this information and "run with it", focusing on topics of importance to their children
Creativity Builders are art projects at the end of each lesson module that can be completed using either traditional art materials or a digital painting program. These art projects give students hands-on experience and an opportunity to express their own creativity, while using the knowledge gained from the lesson. There are 32 Creativity Builders, two for each of the 16 lessons.
Artist cards and puzzle pieces are rewards for online challenges (the Artist cards give students insight into the biographies of the masters—very informative).
My Portfolio lets kids upload, title, and display artwork inspired by the Creativity Express lessons and Creativity Builder projects.
Virtual Gallery of Master Artworks introduces children to various art collections worldwide. This is very educational.
An Art Glossary contains a comprehensive list of art terms and definitions.
A lot of fun along the way--Creativity Express utilizes humor, animation (the polar bear is darling) and storytelling in all of their lessons. Plus, the interactivity of the program and the many incentives and rewards (mentioned above) contribute to the overall fun.
A Teacher account center includes integrated lesson plans with instructions for classroom activities, comprehensive student tracking, and access to student portfolios.
ESRB rated 'E' for Comic Mischief, Creativity Express meets the National Standards for the Visual Arts and is best suited for ages 7-97.
About:
Madcap Logic was founded in 2003 by former animators from The Walt Disney Company with a vision to re-define Art Education.
Collaborating with professional educators they produced Creativity Express, a multi-award winning online curriculum that meets the National Standards for the Visual Arts. Sixteen cross-curricular lessons teach the elements and principles of art, with an added focus on empowering kids' inner creativity, imagination and critical thinking skills.
Madcap Logic's first App release, Start With Art!, contains the first four introductory lessons of Creativity Express. 'Start With Art!' is available in the App Store and on Google Play.
Homeschool.com is known and respected as the the #1 Homeschooling Community. Created to empower parents to create the ideal school for their child at home, Homeschool.com's founding principle is to consistently provide resources, information, and support to all homeschooling families.