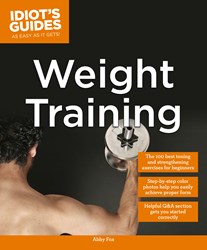 (PRWEB) November 09, 2013
Getting in shape has never been easier!
IDIOT'S GUIDES: WEIGHT TRAINING
Covering the 100 best weight training exercises for beginners, this easy-to-use guide uses color photographs to show exactly where to start and finish each exercise, along with the steps in between, so the reader learns the proper form and steps needed to strengthen and train every muscle group like a professional.

Includes 100 exercises
Each exercise is covered on one spread, or pair of pages, so readers can get all the information they need at a glance without having to stop the exercise and turn the page.
Includes "Careful!" sidebars to help readers avoid common mistakes that may lead to injury
Author: Abby Fox (Carmel, IN—Greater Indianapolis) started her own dance company at the age of 17 while she was still in high school. She became a certified personal trainer through the National Strength and Conditioning Association and has been teaching, motivating, and changing lives ever since. She currently runs her own fitness salon.
IDIOT'S GUIDES: YOGA
Geared toward the absolute beginner, Idiot's Guides: Yoga teaches dozens of basic yoga poses using a series of full-color, step-by-step illustrations that allow the reader to clearly see how every aspect of a pose is executed.

Beautiful, easy-to-follow photos explain each pose and make even the most inflexible, uncoordinated reader a yoga enthusiast in no time.
Handy "Keeping It Easy" sidebars show ways to modify the poses for the less flexible.
Sequences illustrate routines found in yoga classes, each targeting a particular area (stress relief, flexibility, meditation, etc.).
Advanced techniques show the reader how to go further into poses after they have mastered them.
Sections on chakras, mudras (hand positions), mantras, and meditation give the reader a deeper understanding of all that yoga has to offer.
Author: Sarah Herrington (New York, NY) is a youth yoga teacher and writer living in Manhattan, Sarah is the author of Om Schooled, a guide to teaching kids' yoga, and the forthcoming Essential Yoga, a guide for adult beginners. Sarah has taught dozens of classes in New York City public and charter schools, studios, and private lessons, working with a curriculum she created. She now leads OM Schooled teacher trainings in youth yoga.
IDIOT'S GUIDES: STRETCHING
A simple and clear guide to safe, healthy stretching for people of all ages and with all ranges of health, each stretch is introduced in a simple, highly visual format that encourages readers to stretch the right way. Along the way, readers benefit from easier, as well as more advanced, modifications, and learn how to avoid incorrect techniques that can lead to the injuries that can result due to improper instruction.

Explains over 100 stretches and follows a simple, illustrated approach with less text and more visual instruction.
Features a wide variety of stretches for pain management, functional movement, and more.
Appeals to a very broad audience, from readers with a high level of flexibility who need a clear, comprehensive guide to stretching, to those who are just starting out and can't utilize a more advanced book.
Includes sidebars and callouts that give tips and warnings for stretching properly and without injury
Offers easier, as well as more difficult, modifications
Authors: Stephanie Kaiser, MS, (Indianapolis, IN) is the lifestyle program coordinator, NIFS Mini-Marathon program co-coordinator, and a health fitness specialist at the National Institute for Fitness and Sport (NIFS).
Melanie Roberts, MS, (Indianapolis, IN) is the Director of Educational Services and the Fitness Center at The National Institute for Fitness and Sport (NIFS) in Indianapolis, Indiana. She has a Bachelor's Degree from Saint Joseph's College and a Master's Degree in Exercise Science from Indiana State University. She holds certifications from the American College of Sports Medicine and the National Strength and Conditioning Association.