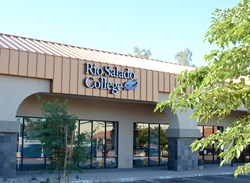 This new regional location provides expanded access to student services for our online students as well as educational opportunities for our College Bridge Pathways students. --Dr. Chris Bustamante, president of Rio Salado College
Tempe, AZ (PRWEB) November 09, 2013
Rio Salado College invites the community to celebrate the opening of its new Tempe location, RSC Southern, at a grand opening event on Wednesday, Nov. 13, at 8:30 a.m.
RSC Southern serves students, veterans and East Valley residents through College Bridge Pathways including adult basic education, GED prep and English Language Acquisition for adults classes.
RSC Southern also offers a testing center, academic advising, counseling, tutoring and other college support services, and is the future home of the East Valley Veterans Education Center.
"This new regional location provides expanded access to student services for our online students as well as educational opportunities for our College Bridge Pathways students," said Dr. Chris Bustamante, president of Rio Salado College.
RSC Southern will also benefit the East Valley by partnering with local community organizations.
"It also responds to the Maricopa County Community College District's initiative that calls for the creation of Educational Empowerment Zones to bring together cities, social service agencies, businesses and educational institutions to strengthen surrounding communities," Bustamante said.
The grand opening event will include a welcome reception with refreshments, short program, ceremonial ribbon cutting and tours of the new facility.
RSC Southern is located at 3320 S. Price Rd., Tempe, AZ 85282. It is open Monday – Thursday from 8 a.m. to 9 p.m., and Friday – Saturday from 8 a.m. to 5 p.m.
Rio Salado College is one of the 10 regionally accredited Maricopa Community Colleges and the largest online public community college in the nation, serving nearly 70,000 students annually with more than 43,000 online. Founded in 1978, Rio Salado offers degree and certificate programs and general education courses. The college also provides support for dual enrollment, military and incarcerated students. It is the largest provider of adult basic education in Arizona and served more than 9,500 students last year.