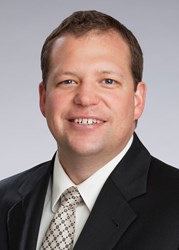 Salt Lake City, Utah (PRWEB) November 08, 2013
Holland & Hart LLP is pleased to announce the addition of Tyson Wilde to the firm's Intellectual Property practice. He is based out of the firm's Salt Lake City office.
Wilde assists clients with intellectual property matters, with an emphasis on patent prosecution. He has significant experience drafting and prosecuting mechanical and electrical patent applications.
He works with clients in a variety of technology areas, including networks, computer, software, printing, circuits, photography, memory and medical devices. Wilde also represents clients with mechanical, electrical and chemical technology in the industries of oil and gas, mining, construction and clean tech, among others.
In addition, Wilde assists his clients with patent portfolio management.
He is admitted to practice in Utah and the U.S. Patent and Trademark Office. Prior to becoming an attorney, Wilde was a patent agent for more than seven years.
Wilde is a member of the Intellectual Property Section of the Utah Bar Association.
He holds a J.D. from the University of Denver Sturm College of Law and a B.S. in Neuroscience from Brigham Young University.
About Holland & Hart
Holland & Hart LLP delivers integrated legal solutions to regional, national and international clients of all sizes.
Since its inception in 1947, Holland & Hart's more than 450 lawyers have consistently been recognized by leading national and international peer and industry review organizations for innovation and dedication to the practice of law.
For more information, visit http://www.hollandhart.com.