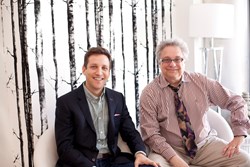 Beverly Hills, CA (PRWEB) November 11, 2013
Alternatives, a unique outpatient treatment facility that specializes in the treatment of alcohol problems and compulsive habits, announced today that it has expanded its facilities to four times its original size and has added a new family support program.
Alternatives' significant growth, all within its first year of operation, demonstrates the viability, need for, and success of a moderate drinking treatment – a program designed by addiction experts Drs. Marc Kern and Adi Jaffe.
In fact, the Alternatives program is the only program in Los Angeles that does not go by the tenet that anyone who drinks too much is a chronic alcoholic or addict. It combines over three decades of clinical experience and research on moderate drinking methods for alcohol abuse and compulsions with the latest technology and monitoring tools.
And it's working. Kern's and Jaffe's structured outpatient program has helped increase the odds of recovery with an evidence-based and data-driven approach called Bio-Affective Management. Since opening its doors last February, Alternatives has helped approximately 40 clients succeed in their goal to "reduce their consumption and avoid substance related consequences."
In addition to one-week, two-month and six-month treatment options, Alternatives will be offering a new support program dedicated to the loved ones of clients so they can learn to deal with the addictive behavior, learn more about the process of treatment and proceed on their own road to recovery. In order to help its community outreach efforts, Alternatives will also be doubling its self-help groups as the demand for such care grows.
"When it comes to addiction, it's rarely black or white. There are many shades of gray and until Alternatives was created it seemed addiction treatment providers weren't looking at alternative options," said Jaffe. "The proof is in the statistics. Fewer than 10 percent of people who struggle with substance abuse get help and among those that do, the success rates are abysmal at 5 percent to 25 percent. We wanted to increase those odds and make treatment more accessible and we are very proud of what we have accomplished in such a short amount of time. We are expanding quickly and adding new services that meet the needs of our clients." In remaining so pro-active, Alternatives has caught the attention of the media and has been featured on the LA Business Journal, Dr. Drew Podcast, EXTRA, Entertainment Tonight and many more.
ABOUT THE TREATMENT
At the core of the Alternatives program is the ongoing real-time monitoring of clients' alcohol consumption and functioning (mood, stress, sleep patterns and more). For some clients, the monitoring consists of 24-hour physical assessment using a wearable device, while for others it is more sporadic. Alternatives staff combines the data they collect to create ongoing monitoring reports and constantly revised treatment plans for each of their clients. Unlike at many other treatment facilities, Alternatives staff utilizes actual data to determine when clients are improving.
Both Drs. Jaffe and Kern assert, "Our goal is NOT necessarily to have you stop all your drug or addictive behavior as would be required from most addiction treatment programs. We focus on trying to teach self-control and moderate use when appropriate." For clients unable, or not looking to moderate, Alternatives does offer abstinence-based treatment that is not 12-step based.
Following treatment, clients are also given the opportunity to partake in the center's aftercare program at no additional charge. Most importantly, when clients graduate they are equipped with a newfound ability to live their lives relieved of the negative consequences and emotional pain that their drinking and negative habits have been causing.
DOCTOR BIOS
Dr.Adi Jaffe
Dr. Jaffe received his Ph.D. from the University of California, Los Angeles (UCLA) in 2010. Even before he graduated, Dr. Jaffe's name had become known through his online and academic writing. His views on addiction and his research on the topic have been published in dozens of journals and online publications and he has appeared on several television shows and documentaries discussing current topics in addiction and the problem of addiction as a whole. Dr. Jaffe also teaches courses at UCLA and the California State University in Long Beach that address addiction specifically or biological psychology and behavioral neuroscience more generally.
Dr. Jaffe's view is a holistic one, drawing from the best and most recent research to bring as complete a solution to addiction clients. At Alternatives, Dr. Jaffe serves as the Director of Research, education, and innovation and is in charge of client monitoring, technology solutions, and data collections and outcomes research. His goal is to make Alternatives the best treatment program there is.
Dr. Marc Kern
In 1982, Dr. Marc Kern received his Ph.D. in Clinical Psychology from the California School of Professional Psychology. In 1983 he founded Addiction Alternatives as a private practice in Los Angeles, California, to provide clients with non-12-step addiction treatment alternatives. At Alternatives, Dr. Kern serves as the Director of Clinical Services.
Dr. Kern regularly speaks at national and international professional conferences, conventions and workshops. He is on the Board of Directors for the self-help program, Moderation Management. Previously, he was on the Board of Directors of SMART Recovery and a member of the original board of Rational Recovery.
As a guest addiction expert, Dr. Kern has made over 100 media appearances, including syndicated and local radio and TV shows, including 20/20, ABC's popular network newsmagazine show, and CNN's renowned Larry King Live. He has also been featured in articles in dozens of daily newspapers and national magazines.
His practical self-help book "Take Control, Now!" is a do-it-yourself blueprint for managing unwanted habits. His work has been published in professional publications, including the prestigious International Journal of the Addictions.