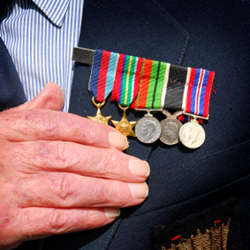 Being able to provide the best resources for our veterans and military families is our #1 priority
Washington, DC (PRWEB) November 08, 2013
In honor of Veterans Day and the sacrifices our military service members make year-round, businesses across the country are offering some amazing deals and discounts as their way of saying thanks. MilitaryOneClick has compiled an extensive list to help spread the word about these great deals.
The company is helping veterans and service members find out where they can get a free coffee, a fresh doughnut, or a personal pizza. According to their websites, restaurants such as Applebee's, Texas Roadhouse, and Olive Garden are even serving up free meals on Monday, November 11th! See the complete list of restaurant deals at militaryoneclick.com/2013-veterans-day.
For service members and veterans who are interested in spending some time with family this weekend, the admission section has all of the details about which venues are offering free entry. MilitaryOneClick also reports special offers from the B&B for Vets program where military veterans can spend the night at one of over 300 Bed & Breakfasts around the country.
Many retail stores and other national chains are also offering additional discounts this Veterans Day, some will be in addition to the standard military discount they already offer.
"The entire team at MilitaryOneClick is scouting deals this week and the list will continue to expand as more offers are confirmed," states founder and CEO, Jennifer Pilcher. "Being able to provide the best resources for our veterans and military families is our #1 priority."
MilitaryOneClick salutes all of the organizations who reach out to our military community and thanks them for their support.
To see the full list of Veterans Day Deals & Discounts visit militaryoneclick.com/2013-veterans-day.
For more everyday deals visit MilitaryOneClick's shopping page.
About MilitaryOneClick
MilitaryOneClick is a dynamic user-friendly site where active duty military, reservists, veterans, and their families can find links to career tools, financial assistance, educational opportunities, travel and more. No login or password required.
For more information visit militaryoneclick.com or contact us at support(at)militaryoneclick(dot)com