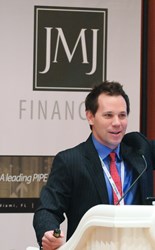 New York, NY (PRWEB) November 07, 2013
This week at the Westin Times Square, New York City, JMJ Financial's Portfolio Manager, Justin Keener, presented at the 10th Annual PIPEs Conference. With hundreds of finance professionals in attendance, DealFlow Events billed the conference as one of the most important and influential events of the small cap company financing market.
During his presentation, "State of the Small Cap Financing Market," Keener announced a commitment to invest at least an additional $15,000,000 into small cap public companies during 2014, and also presented an overview of current financing conditions, deal flow volume, market conditions, and small cap market opportunities.
JMJ Financial is a leading investment fund for small cap publicly traded companies, and holds structured financing investments in over 130 companies in its portfolio from Nasdaq, OTCBB, OTC Markets, and NYSE. Keener is the firm's Founder, Principal, and Portfolio Manager.
The firm does more transactions than any other firm in the small cap space, having completed more than 235 transactions year to date--that's a whopping 75 new transactions and 160 follow-on transactions.
"Despite the improvements we've seen in the stock market and economy, we are still going through tumultuous times. Taxes are rising and unemployment is likely to remain high for years. During 2014 JMJ Financial is committed to investing at least $15,000,000 in America's small cap companies, which are the life blood of worldwide innovation and growth," Keener stated.
The firm's primary product and investment vehicle, which it internally refers to as a QuickLoan, is an innovative working capital investment designed to provide small cap publicly traded companies with quick and easy cash in the range of $50,000 to $250,000. The firm invests its own capital, and does not rely on any outside investors or third party funding sources.
With more than $14,000,000 invested into its QuickLoans and already having completed more than 235 transactions this year, Keener voiced his commitment "to deploy at least an additional $15,000,000 into small cap publicly traded companies via QuickLoans next year."
JMJ will continue to aggressively close QuickLoans, and the firm has committed an additional $15,000,000 for investment during 2014. For more information, please email JMJ Financial and visit both http://www.QLfunding.com and http://www.JMJFN.com.
ABOUT JMJ FINANCIAL
Based in Miami, FL, JMJ Financial is a privately held investment firm that specializes in providing growth and development capital to emerging small cap companies. JMJ is not a broker or finder, the firm invests its own capital into transactions designed to build long term working relationships with a focused group of innovative companies. With over 130 Nasdaq, OTC Markets, NYSE, and OTCBB companies in its portfolio and a long and highly successful track record, JMJ Financial is one of the most active and reliable investors in the space.
ABOUT DEALFLOW EVENTS
Since its inception in 2002, DealFlow Events has hosted over 200 conferences covering alternative asset markets. DealFlow events are the signature programs in their respective markets, bringing together the leading practitioners in each field with major sponsors servicing the market. DealFlow events are seen as opportunities for education in addition to networking with colleagues. The tag line "A DealFlow Event," carries clout, which is why it's always included in the event branding. Program managers develop each program by vetting the major issues and trends surfacing over the course of the year. At all times, the focus is on providing attendees with the highest quality content possible. The program always comes first.