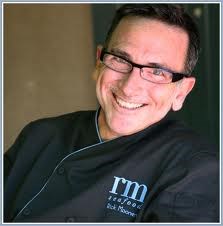 it's my hope that these products will inspire people to get into the kitchen, cook and have fun doing it. - Chef Rick Moonen
Las Vegas, Nevada (PRWEB) November 20, 2013
Celebrity chef, restaurateur and author, Rick Moonen, announced today that he has signed with licensing agency, All-American Licensing & Management Group (AALMG), to develop a comprehensive line of sustainable fish and seafood products. Second only to his passion for sustainability is his commitment to ending childhood hunger, and a percentage of all proceeds from the sale of every item will be donated to a national charity to ending childhood hunger in America.
"Cooking isn't just my profession, it's my passion, and I'm so excited to be working with AALMG with the intention of bringing some great, consumer-friendly products into the marketplace," said Moonen. "When I'm not at the restaurant, I love entertaining for my friends and family, and it's my hope that these products will inspire people to get into the kitchen, cook and have fun doing it."
"We couldn't be more thrilled to be working with Chef Rick, whose commitment to sustainability and conservation make him one of the most dynamic chefs in the industry," says Michael Gottsegen, co-founding partner of AALMG. "The product concepts that we'll be introducing will be unique and diversified, and will range from steampunk to eclectically designed utensils to seasonings and spices," stated Gottsegen.
This summer, Moonen opened his second Las Vegas-based restaurant, Rx Boiler Room, a steampunk-inspired restaurant and lounge, with décor reminiscent of industrialism during the 19th century Victorian era. Combining the alchemy of food and drink, Moonen showcases his spin on classic comfort food with dishes like chicken pot-pie nuggets, inside-out French onion soup and bacon wrapped bacon-and-egg, offering guests a variety of playful creations in small and large plate portions, ideal for a shared dining experience. Paired to elevate and complement the overall experience, the cocktail menu offers an emporium of the finest spirits and innovative libations, and was recently featured on the cover of Las Vegas Weekly magazine as the leader of Vegas' rising cocktail movement.
About Chef Rick Moonen
Restaurateur, chef and cookbook author, Rick Moonen, has been one of the country's leading advocates for the sustainable seafood movement throughout his career. His restaurants, Rick Moonen's rm seafood and Rx Boiler Room at Mandalay Bay in Las Vegas, showcase his commitment to sustainability without foregoing culinary creativity and innovation, and have been critically acclaimed by local and national press since day one. His cookbook, Fish Without a Doubt, is a practical, hands-on guide to buying, preparing and cooking a wide array of fish. Rick has been featured in Food & Wine, SAVEUR, Bon Appetit, Food Arts, USA Today, Travel + Leisure, and seen on Food Network's Best Thing I Ever Ate, Top Chef, Top Chef Masters, TODAY, Good Morning America, CBS This Morning, Dan Rather Reports, and CNN. In 2010, Rick was the runner-up on Bravo's Top Chef Masters (season two) raising both national awareness and nearly $28,000 for Three Square Las Vegas. Rick has received numerous awards for his tireless efforts towards sustainability including Chef of the Year by the Monterey Bay Aquarium; and Humanitarian of the Year by the American Culinary Federation. Find him on Twitter @RickMoonen, Facebook.com/ChefRickMoonen, on Instagram @ChefMoonen or http://www.rickmoonen.com. Press inquiries for Rick Moonen can be sent to Ken Langdon (ken(at)langdonflynn(dot)com).
About All-American Licensing & Management Group (AALMG)
All-American Licensing & Management Group (AALMG) is a full-service branding agency specializing in client management, licensing, endorsements and retail development. With offices in Los Angeles, Austin and NYC, AALMG has an impressive roster of clients ranging from top corporate brands to celebrities. Founded in 2011 by veteran licensing executives Tim Rothwell and Michael Gottsegen, AALMG provides their clients with a global network of relationships as well as a track record of success. Rothwell is a licensing and business veteran who has recorded the largest licensing deals, in multiple categories, in the industry. And with more than 30 years of retail experience, Gottsegen has garnered numerous awards including his induction into the In Store Marketing Institute's "Hall of Fame." For more information on AALMG, go to http://www.AALMG.com