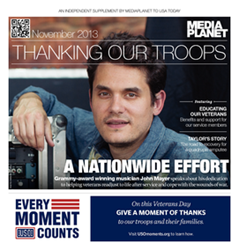 New York, NY (PRWEB) November 08, 2013
Mediaplanet Publishing, the global leader in themed media, has released the fifth edition of their Thanking our Troops and Veterans publication series that hit newsstands this morning within the weekend edition of USA Today. Kicking off right before Veterans Day, the 12 page campaign will create a strong call to action to educate readers on the many struggles that our Veterans face when returning from battle and how we can support our troops in making a smooth transition back home.
Reaching over 1.3 million readers, the glossy, full-color special section appears within the centerfold of USA Today in the select markets of New York, Baltimore/Washington DC, Chicago, Houston, L.A. The publication will also be distributed through numerous social media platforms, further extending the reach to key opinion leaders, influencers, consumers and celebrities.
The publication has brought together the leading organizations and thought leaders in the industry and has created a unified collective voice, empowering readers on the importance making it our duty to support our troops when they are reintegrating back into civilian life. The campaign will be featuring leading organizations such as – USO, Easter Seals, John Mayer (celebrity advocate), NCIRE, Justin Verlander (celebrity advocate), Give an Hour, Chairman of the for Military and Veterans Community Service -Col. David Sutherland, a touching story featuring an inspiring Veteran- Taylor Morris and his wife Danielle Kelly, with a variety of inspiring industry leaders such as Capital One, Sallie Mae, Jacksonville University, Raytheon, Kean University, Military Benefit Association, and several more. Mediaplanet is thrilled to recognize and honor the heroes of our nation. See full campaign HERE.
Mediaplanet is the leading independent publisher of content-marketing awareness campaigns covering a variety of topics and industries. We turn consumer interest into action by providing readers with motivational editorial, pairing it with relevant advertisers, and distributing it within top newspapers and online platforms around the world.