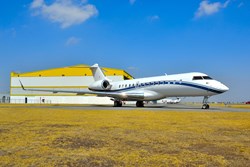 LOS ANGELES, CALIFORNIA (PRWEB) November 11, 2013
TWC Aviation today announced the addition of a fourth Bombardier Global Express to the company's managed charter fleet. This spectacular, ultra-long range Global Express XRS seats 13 passengers and features state-of-the art entertainment, communications, and safety technologies. It is one of twenty large cabin jets now available for charter from TWC Aviation.
With a range of nearly 6,000 nautical miles and speeds over 500 knots, the Global Express XRS represents the pinnacle of business jet travel. It is a perfect solution for travel to faraway destinations, across continents, and over oceans.
This late-model aircraft has an advanced cabin electronics control system to manage global office, cabin utilities, and entertainment systems, as well as video and Airshow displays. There are fifteen power outlets throughout the cabin. The luxurious interior is replete with the finest leathers, and wood, and premium fittings, and offers a full galley with conventional and microwave oven and a coffee maker.
Email jetcharter(at)twcaviation(dot)com for a charter quote on this Global Express XRS. Or call +1.800.538.6070.
About TWC Aviation, Inc.
TWC Aviation delivers private jet charter, aircraft management, and sales and acquisitions services to clients worldwide. Aircraft in the TWC Aviation fleet are located throughout the U.S. and abroad, with offices in Los Angeles, New York, and San Jose, California. Aircraft operate under FAA Air Carrier Certificate BZUA138N. TWC is audited by IS-BAO, Wyvern, and ARGUS, and also maintains an FAR Part 145 Repair Station. More information is online at http://www.twcaviation.com.