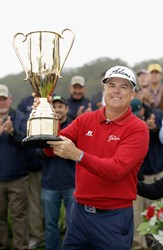 The Charles Schwab Cup is the ultimate prize on the Champions Tour each year and IonLoop was on board to see it first-hand. - Melissa Gotfredson, IonLoop CEO
Carrollton, Texas (PRWEB) November 08, 2013
The Adams Golf/IonLoop royal blue sport bracelet takes a victory lap on the season-long Charles Schwab winner in San Francisco. Bernard Langer would have had to win the event to claim the top prize however as the runner up he takes home a nice $500,000 check. The Champion finished the season with 3,273 points while wearing a Kentucky Blue Adams/IonLoop negative ion + magnet bracelet.
The Charles Schwab Cup is the ultimate prize on the Champions Tour each year and IonLoop was on board to see it first-hand," said Melissa Gotfredson, IonLoop CEO. "Something tells me that the "Million Dollar Bracelet will be on-board again in 2014", said Gotfredson.
IonLoop® negative ion bracelets, Ion Time™ watches, and necklaces are a great first-step in counteracting the harmful effects of positive ions. The negative ion properties are manufactured into the silicone bands themselves and will not lose their effectiveness over time. Most of the bracelets and the new Ion Time watch also contain small but powerful magnets that are carefully assembled so that they alternate the polarity of each magnet; we believe this manufacturing process may be adding another dimension to the potential stimulus that the magnets may have on the chemistry of the human body.
For additional information on IonLoop technology and to view all of the other IonLoop products, visit http://www.ionloop.com.
Contact:
Bob Gotfredson
bob(at)ionloop(dot)com
1430 Valwood Pkwy. #160
Carrollton, TX 75006
972-831-1900