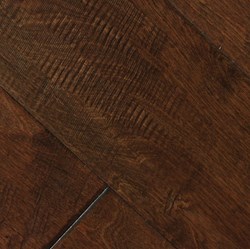 Engineered wood flooring is a superior option to solid in that it is a lot more versatile.
City of Industry, CA (PRWEB) November 12, 2013
Johnson Hardwood has been in the business of manufacturing hardwood floors for almost 20 years, and the common debate amongst all inquiries is which is better solid or engineered wood flooring? Most consumers think that solid would be the better choice since it is made mostly of wood, and engineered flooring is inferior due to its construction. "This is absolutely not the case," says Johnson Hardwood Technical Director Steve Marley. "Engineered wood flooring is a superior option to solid in that it is a lot more versatile. Engineered wood flooring is able to acclimate to a wider variety of environments where as solid wood floor can be problematic in environments with extreme climates. Engineered flooring can also be applied to different types of subfloors with a variety of applications. Solid hardwood does not allow for installation options and should be installed by a certified installer." What solid hardwood does that engineered does not is giving the owner the ability to refinish if sanding is required.
Johnson Hardwood has expanded their product lines to add a greater diversity of engineered products. Two product lines launching this fall are the Pacific Coast and Frontier series. Both are engineered in construction to accommodate the abundance of installation scenarios that a dealer and installer can face when putting in a hardwood floor. The Pacific Coast comes in Hickory, Smooth Maple, and Birch with 6-1/2 inch wide planks. While the Frontier series comes in Birch and comes in 5-inch wide planks.
Johnson Hardwood is one of the leading manufacturers of premium hardwood flooring with distribution to the United States and Canada. We produce on-trend, hand crafted, and hand stained flooring options by sourcing durable hardwood species from around the globe. Plus, we offer the highest standard of worry-free floors in the industry being CARB II and Lacey Act compliant. Johnson Hardwood floors are manufactured with the greatest care and backed by a warranty that assures complete satisfaction.