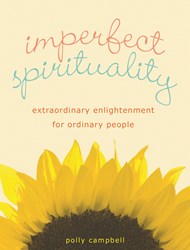 (PRWEB) November 08, 2013
Polly Campbell, who authored Imperfect Spirituality: Extraordinary Enlightenment for Ordinary People (available in audio), was recently featured on Examiner.com in an article on feeling happier by adding some fun into a busy schedule.
Another way to feel better fast is to drop the quest for perfection in all things, and know that good is good enough. The messiness and imperfections of life can sometimes be more fun than getting everything exactly right.
Polly's advice on quick ways to incorporate something fun and different into your life is to "add something new and novel and pay attention to the good feelings that emerge. Hey, you might even discover your passion or purpose."
Polly, who regularly blogs about happiness, also recently penned pieces on feeling happy by doing good in the world, and focusing on core values to deal with stressful situations.
What people are saying about Imperfect Spirituality:
"Read from start to finish, or open anywhere for a dip. Her words reach out...and touch your heart." —Mary Anne Radmacher, author of Live Boldly
Pulling a raisin out of a two-year-old's nose probably wasn't on Buddha's path to enlightenment, but it was an aha! moment for author Polly Campbell. In Imperfect Spirituality, Campbell shows you how to integrate those everyday moments with traditional spiritual techniques to increase your personal growth and well-being. Imperfect Spirituality is filled with practical tips and dozens of examples that will encourage you to amp up your optimism, let go of worry, and embrace your authentic self to offer your true gifts to the world.
Polly Campbell is a writer and speaker who specializes in personal development and spiritual topics. A blogger at ImperfectSpirituality.com and PsychologyToday.com, she teaches on the Daily Om as well. For more than two decades, Polly has studied and applied the techniques she writes and speaks about to her own life. She lives with her family in Beaverton, Oregon.