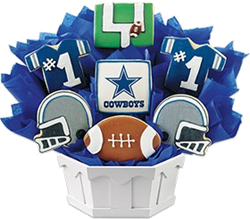 Plano, TX (PRWEB) November 07, 2013
The undefeated Kansas City Chiefs may have the best record in the NFL this year, but based on the Cookies By Design Cookie Poll, the Dallas Cowboys are winning by a crumbslide.
For more than a year, the national cookie gift delivery company has been selling football themed cookie gifts in all 32 NFL markets and it seems Cowboys fans have the biggest appetite for gourmet goodies.
"When we crunched the numbers, it wasn't even close," says CEO Jack Long. "The Cowboys have had an up and down year on the field, but they're definitely America's Team when it comes to cookie sales."
Here's how the cookie numbers crumble:
1. Dallas Cowboys
2. Baltimore Ravens
3. Green Bay Packers
4. Pittsburgh Steelers
5. Chicago Bears
6. San Francisco 49ers
7. New York Giants
8. Denver Broncos
9. Houston Texans
10. New England Patriots
11. New York Jets
12. Washington Redskins
13. Oakland Raiders
14. New Orleans Saints
15. Philadelphia Eagles
16. Cleveland Browns
17. Miami Dolphins
18. Minnesota Vikings
19. Seattle Sehawks
20. Indianapolis Colts
21. Detroit Lions
22. Atlanta Falcons
23. St. Louis Rams
24. Cincinnati Bengals
25. San Diego Chargers
26. Kansas City Chiefs
27. Carolina Panthers
28. Buffalo Bills
29. Tampa Bay Buccaneers
30. Jacksonville Jaguars
31. Tennessee Titans
32. Arizona Cardinals
"The numbers don't really correlate to the win-loss record very well," says Long. "For instance, the Chiefs are 9-0 on the field this year, but they finish near the bottom of our cookie poll. Meantime, the Cowboys and the Ravens have only had modest success between the yard lines, but they're on top of the stack when it comes to cookie sales."
Cookies By Design is the country's original cookie bouquet company. For 30 years they've been serving up fresh, hand-designed gourmet cookies online and in more than 100 franchise stores sprinkled throughout the country. The company recently started baking gluten-free cookies to serve the 18 million Americans who have gluten sensitivity.
Media Contact:
Jack Long, CEO
Cookies by Design
(direct) 469-326-2504
jlong(at)cookiesbydesign(dot)com
http://www.cookiesbydesign.com