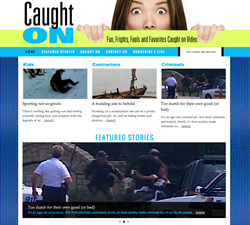 Live video monitoring, by internet, allows home-owners and business-owners to safeguard their properties, families and pets.
Toronto, Canada (PRWEB) November 08, 2013
Security cameras—especially when connected through the internet for remote monitoring—consistently help capture criminals, safeguard children and pets and reveal frightening situations. Caught On! continues its series of revealing videos.
"Criminals too dumb for their own good (or bad)"
This week, Caught On profiles three "stupid" criminals, caught on CCTV and security cameras:

A criminal who sits in the middle of the street with a gun in his hand, surrounded by police. Even after a sniper shoots the gun from his hand, Mr. Smart Criminal continues to lounge in his lawn chair, as if he hasn't a care in the world, even as he's tackled to the ground.
A burglar who puts on his balaclava after he steps in front of a security camera.
Perhaps the stupidest criminal of all comes up against a female shopkeeper who grabs his gun—he begs her to give it back.
To see these silly criminals caught on tape, see >>
"Soldier Accidents, Failures and Incidents"
Captured on video this week, some of the scariest scenarios imaginable in military practice:

A soldier's hat is shot off by a fellow soldier—in an improbably lucky incident.
What do you do when a bazooka fails? Drop it and run, according to one video-taped drill session.
Man against tank? A video that pits an unarmed man against the big gun of a tank.
See more videos with gun-happy soldiers.
"Dogs: Home Alone."
Home security cameras reveal the very real danger of leaving dogs—and especially puppies—home alone. Watch as a young puppy leaves a trail of destruction, literally destroying a house. If the owner had installed live video monitoring—a system like iWatchlife.com or equivalent—most of this wholesale damage might have been averted.
Another video captures an English Mastiff trashing a house, followed by a third video with security camera footage of a dog obliterating an offensive sofa.
See more videos of pets home alone—a call to action for in-home security monitoring.
About Caught On!
Caught on video! Caught On zine showcases those special, fun, scary, candid, freaky moments captured by home and business security cameras, street cameras, surveillance videos or cell-phones.
Pervasive cameras have changed our world. We are more secure today, because of them. We also capture more of life's treasured moments thanks to cameras everywhere. Our phones have cameras. Street corners, stores, businesses and subways all have them. Increasingly, more and more homes have them —and not just at the door for security, but throughout the house.
Caught On! is a Zines Online publication, a service of Persona Corp.