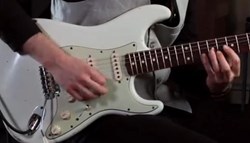 (PRWEB) November 08, 2013
"When I'm writing my own licks and phrases I base a lot of it off of using three devices", says MacLennan. The first of which he says is "scale-wise motion, like step wise motion", which he demonstrates with a minor pentatonic scale pattern. The second he says is "interval skips", demonstrated by moving a 7th from an E to a C or "string skipping", says Jon. Then thirdly some Arpeggios, "you take a chord and play the individual notes of it and that's what an arpeggio is", says MacLennan. He continues to talk about what he refers to as "the language of the music" and says that when he is learning a solo or a lick he will take small sections that he calls "cells" and mix them together, like "mixing Charlie Parker Bee-Bop Jazz with some Pat Martino", says MacLennan. Jon demonstrates this concept by playing a lick of his own that consists of mixing an arpeggio with another lick based in minor pentatonic. He also mentions that associating the "melody with the harmony" is important; he does this by playing the arpeggio over the associated chord. He talks about how this will help separate the idea being just a "lead guitar player" or a "rhythm guitar player" and that the two should just be one.
Jon MacLennan
Los Angeles-based guitarist Jon MacLennan began his career at the age of 16 and is one of the busiest upcoming session guitarist, artist, composer, producer, and professional educator in LA. Jon has done session work for Julian Lennon, Steven Tyler, and British pop star Jamie Cullum. He has appeared on Disney channels "The Suite Life of Zack and Cody" and on the sound track to the movie "Marley and Me 2 – The Puppy Years". MacLennan earned a bachelor's in ethnomusicology and jazz guitar studies from University of California, Los Angeles, and has been mentored by Carl Verheyen, Wolf Marshall, Kenny Burrell, Anthony Wilson, Tamir Hendelmen, Jimmy Wyble and Ron Anthony which has made him a highly sought after guitar instructor today.
About GuitarControl.com
GuitarControl.com is the leader in modern guitar instruction. It's packed with recourses including articles, video lessons, and the best videos in the business for the beginner to the advanced guitar student taught by the best instructors out there. Whether you are into the blues, rock, jazz, metal, folk, or anything in between, they have you covered.