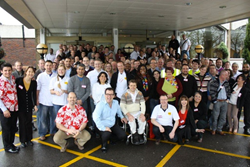 at the end of the day, it's not really about the price but how you pay the price that will determine affordability.
(PRWEB) November 10, 2013
In light of the report from Express.co.uk on October 25, 2013 which featured the concerns raised by Allister McGavern – a Glasgow-based whistleblower who exposed how mistakes by real estate agents cost clients £2.5 billion annually – renowned Australian property investor Rick Otton has shared selling strategies to help people secure good deals for their investment properties.
"The big problem with real estate agents is that many of them were not really taught how to effectively sell a house. Instead they were trained how to file different paper works for different properties. That's why they make a lot of mistakes when buyers and sellers decide to trust their property problems with them," said Mr. Otton, author of the best-seller 'How to Buy a House for A Dollar'.
According to Mr. Otton, most agents are focused too much on the price because that's what they've been told. As a result, it is an instinct of an agent to ask sellers to drop the price if there are no buyers.
However, Mr. Otton stressed that dropping the price doesn't necessarily improve affordability. And in most cases, it simply hurts the seller financially – especially if the seller is at risk of going upside down.
"A solution for this problem is to look past the price and focus more on the situation. Take the time to know the story behind the buyer and seller to create a flexible deal which will be beneficial for both parties. Because at the end of the day, it's not really about the price but how you pay the price that will determine affordability," he recommended.
"Knowing the story behind every client is important with creative strategies, because without it, the terms of the deal wouldn't be adjusted based on the needs and capacities of the buyers and sellers. Aside from that, it also helps maximise the potential profits out of every property for sale," Mr. Otton explained.
Known for his property investment seminars that teach people how to invest in property without taking new bank loans are spending for a large deposit, Mr. Otton has also worked with many agents who have sought his advice on selling property.
"In my experience with agents, those who eventually boosted their sales were those who made a habit of looking after the seller's interest by understanding their situation. And based on that understanding, they look for practical solutions other than just dropping the price, dropping the price, and dropping the price," said Mr. Otton
"If you are a seller and you think that you really need the assistance of an agent, it's very important to be diligent in selecting the right person to represent you. Your decision will ultimately determine whether you get a good deal or not."
To help people in the UK to understand his creative real estate techniques, Mr Otton has offered, for a limited time, a free downloadable Power Property Profits Pack at http://www.RickOtton.co.uk. http://www.rickotton.co.uk/ now to sign-up for a free copy.
About Rick Otton
Rick Otton is a property investment professional who, over the last 23 years, has introduced innovative real estate strategies to the UK, Australian and the United States. His creative 'low-risk, high-reward' approach to buying and selling houses is exemplified in his own business, We Buy Houses.
This year marks the 10 year anniversary of Mr Otton introducing his strategies to the UK, and the 5 year anniversary of his innovative 'Buy A House For A Pound' process – one that attempted to be emulated by others. His constant process of strategy refinement, and adapting to the ever-changing real estate market, continues to place him at the forefront of property investment education.
In 2012, Rick Otton published his Australian book 'How To Buy A House For A Dollar' which was named in the list of Top 10 Most Popular Finance Titles for 2013. A UK version is on the drawing board for publication in 2014.
Mr Otton freely shares insights into his non-bank-loan strategies that have allowed everyday UK men and women to beat the rental cycle and have their own homes. He coaches others on how to build profitable businesses by facilitating transactions that focus on the needs of potential buyers and motivated sellers.
Access his free downloadable Power Property Profits Pack at RickOtton.co.uk, as are the details of early bird pricing for his next UK 3-day real estate training conference in March 2014. Phone enquiries in the UK are welcome on 0207 000 1027.