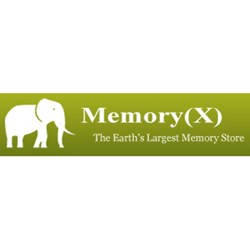 Memory (X) is a one stop shop for all the hardware as well as memory requirements, providing solutions for over 50,000 electronic devices.
Santa Clara, California (PRWEB) November 12, 2013
The MemoryTen team recently added up a section on compact flash memory cards in its forever-growing catalogue of products. Compact Flash memory cards are available with different storage capacities varying from 128 MB to 64 GB. These compact flash memory cards have been designed as per the dimensions prescribed by PCMCIA (Personal computer memory card International Association); they can be used in almost all the compatible devices.
The MemoryX store provides a lifetime repair or exchange warranty against manufacturing defects. Further, the bought product can also be returned with 15 days of delivery for a full refund (minus shipping charges) in case the customer is dissatisfied with the ordered product, provided the product is still in original condition.
MemoryTen has built the Earth's largest online memory store, housing computer hardware as well as accessories for different machines from renowned brands; all under the same roof. Also, the website offers high quality products at unbeatable prices. Also, the site has a special "Check your computer" option for people with little knowledge about computers. Clicking on this option automatically checks the current memory configurations of the system and it suggests the next possible upgrade options available.
Compact flash cards have become popular all over the world for the ease with which they can be used. Today, due to their compact size ( 43X 36 mm ), there are widely used in a number of applications, including digital cameras, MP3 players, desktop PCs, PDAs (Personal Digital Assistants), photo printers etc. Their solid state construction provides an added advantage over traditional storage devices that had lower operating shock-rating. Also, they can be used to store high resolution pictures, videos and much more.
Memory(X) is a one stop shop for all the hardware as well as memory requirements, providing solutions for over 50,000 electronic devices. Its expanding product catalogue accommodates high quality, high performance promising products with a very reasonable price tag. Also, the friendly architecture of the online store, easy shopping cart and efficient search options ensure easy, hassle free and fast checkout for the customer.
The CEO of Memory(X) exclaims, "We are extremely thankful to our valuable customers for helping us evolve and emerge as the 'earth's largest online shopping' store. The memory(X) team is making sincere efforts to provide satisfactory solutions to our customers".
About MemoryTen
MemoryTen Inc was incorporated in the year 1995 as a private company, registered in the state of California, USA. Ever since, the company has been providing customized memory solutions for Sun, Apple and other proprietary machines. Today, the company provides solutions for over 50,000 electronic devices. Also, MemoryTen team comprises of specialists who hold expertise in tailoring memory modules as per the needs put forth by the customers. Besides, the team extends 24 hour online tech support and on-call support to all its customers.