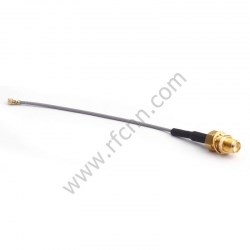 (PRWEB) November 10, 2013
As one of the most preferred cable companies in the global market, RFcnn.com insists on offering high quality products to customers worldwide. Recently, the company has proudly announced its new products: pigtail cable. The new pigtail cable items are available at discounted prices, up to 25% off.
According to the CEO of RFcnn.com, pigtail cables have very short lengths, small diameter size and come in different cable types and connector options. They have great differences in the quality. RFcnn.com strives to provide high-end pigtail cable products with great performance.
"We are excited to introduce our new items and launch the promotion. Now all the new cables are offered at discounted rates. We have updated our website to allow you to easily access more product information. We sincerely invite our old and new customers to explore our updated website with new online shopping capabilities." The CEO says, "This is a good chance for you to get hot products at affordable prices. Along with the discounts, any one place an order over $2000 will get a gift."
RFcnn.com is now an industry leader. It often launches special offers on its excellent products. The pigtail cables from RFcnn.com can be used for connecting radios to antennas, like WIFI antenna cable, GPS antenna cable, CB antenna cable, RFID antenna cable and more.
About RFcnn.com
RFcnn.com is an online shop of Zhenjiang Fourstar Electronics Co. LTD, which is a China based company that wants to provide customers with high quality products at the lowest possible prices. Customers can try the company's products through sample orders with a long-term contract. Most customers come back soon after receiving their first deals. More details at http://www.rfcnn.com/SMA-Female-TO-U-FL-Cable-Assembly-Jumper-105.html.