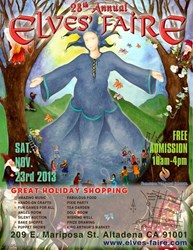 Experience the magic of Pasadena Waldorf School's annual Elves' Faire.
Pasadena, CA (PRWEB) November 11, 2013
The 28th Annual Elves' Faire may be only a few days away, but the parents and staff at Pasadena Waldorf School have been preparing for months to host this popular recurring community event. Attended by thousands each year from all over greater Los Angeles and beyond, the Faire features music, feasting, crafting, holiday shopping, medieval-style contests and games for children of all ages. The Elves' Faire will take place this year on Saturday, November 23, 2013, from 10am until 4pm on the wooded setting of the PWS campus at 209 East Mariposa Street in Altadena. Admission is free and the Faire goes on rain or Shine.
The campus of Pasadena Waldorf School offers a beautiful and unique setting for the Faire under the magnificent canopy of deodar and oak trees. The Faire is widely known for fun and heartwarming holiday shopping. The Doll Room is an enchanted showcase of one-of-a-kind handmade dolls lovingly created by members of the Pasadena Waldorf community. The Angel Room is a magical experience for children only, where "Angels," played by PWS eighth graders, accompany the children as they select beautiful handmade gifts for their family members and friends. The Wishing Well offers durable and sustainable natural toys, books, and health & beauty items that make it a destination for unique holiday shopping. King Arthur's Market is a medieval outpost with handmade swords, shields, capes and other beautifully crafted fantasy toys created by community artists and artisans. Jack Frost Bake Shoppe offers delicious baked goods, including plenty of tasty gluten-free, vegan and peanut-free goodies often not found in local markets, as well as holiday ornaments and gifts. The Silent Auction Boutique features unbelievable deals on vacations, entertainment & dining, fashion, jewelry, unique gifts and certificates, as well as the work of world-class artists who are members of the Waldorf community. For convenience, credit cards will be accepted.
Faire-goers can jump into the action at Arts & Crafts tables to create handcrafted treasures, felted gnomes, candles, and leather items to keep or give as gifts. The medieval-style Games area includes jousting, rope ladders, mazes, and much more. Shorter and younger versions of games and crafts are offered for the youngest participants at the Pixie Party. Everyone wins a prize!
This year, Elves' Faire entertainment will feature PWS Middle and High School student performances, roving medieval characters, multiple performances of the school's popular puppet shows, and live bands playing folk, bluegrass, and rock. The Fairies Feast is an international experience by itself with inspired food from a variety of well-known chefs and local restaurants. There are also places for weary travelers to sit and enjoy the live bands with a cappuccino or cup of hot cocoa, or tuck away in the delightful Woodland Tea Garden for a peaceful interlude.
The campus will be open for this fantasy-inspired community event from 10am to 4pm on Saturday, November 23, 2013. For more information, visit http://www.elves-faire.com.
Pasadena Waldorf School, founded in 1979, is one of over 1,000 Waldorf schools worldwide with over 90 years of experience offering inspired education. The Pasadena Waldorf School High School, which opened in 2012, joins 40 other Waldorf high schools now operating in North America. Waldorf education is the among the fastest growing independent school movements in the world.